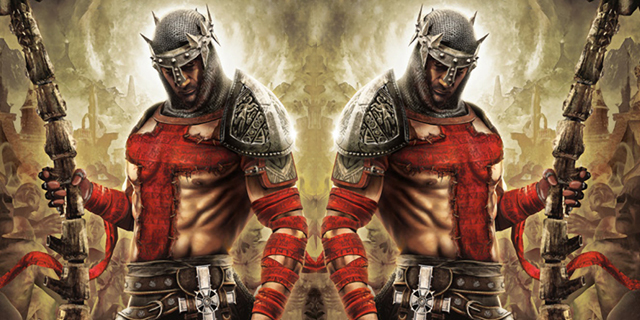 This week, we see how our predictions have been turning out lately! Will you be crashing castles on PC? Will Kinect invade Sony TVs? And are we going to get a Dante's Inferno sequel?
Castle Crashers coming to Steam before 2013
Castle Crashers is still one of the most popular XBLA games and was well-received when it was released on the PS3 as well. To this point it is lacking a PC release, though rumors are beginning to pick up that The Behemoth may be working on rectifying that with a Steam release.
Andrew
95%

I'm still surprised Castle Crashers isn't already on Steam, considering the origins of the developer. It would be a perfect fit though, so I'll be surprised if this doesn't happen.

Shawn
80%

Considering the success that Castle Crashers has had on XBLA and PSN, it's very surprising to me that it hasn't come to PC or Steam yet. I think it's likely to happen sooner or later, but the fact that it hasn't after this much time tempers my expectations a tad.

Graham
40%

Downloadable games have found more success on PC than on console, despite the experience being nice, smooth and largely preferable for many games in the closed environment. That said, Castle Crashers broke the mold, and let's be honest: wouldn't this have happened before now if it was going to?


Eric
80%

This would be pretty awesome to be honest. Would give me another reason to pick this game up again on a different system. If anything, Behemoth has always been a company to please their fans, so the idea of a steam release seems viable. It took a while for it to come out on PSN, but it happened eventually. I could see the same thing happening on Steam.
Visceral Games working on Dante's Inferno 2
When Dante's Inferno released last year to mediocre reviews and sales, we all assumed that it would be a one-and-done series for EA. Especially since the poem it is based on doesn't exactly lend itself to a game-based sequel. Now though, one of the writers of Assassin's Creed 2 is hinting at having written a major unannounced sequel for Visceral Games. Given their portfolio of series, there are numerous possibilities, though none so intriguing as a potential Dante's Inferno 2.
Andrew
60%

I want to say the first game did decently for EA, but I would be surprised if they want to push for a sequel. At the same time, the same thing happened with the first Dead Space and, with the right launch window, Dead Space 2 did a lot better. EA could be hoping the same for Dante's Inferno 2, and with the right launch window and marketing campaign (one that's hopefully better than the abysmal Dead Space 2 marketing campaign), they might just get that.

Shawn
55%

From what I understand, Dante's Inferno was a fairly good game that got a bad rap for being 'too similar' to God of War. I wouldn't be surprised if EA decided to try to make a franchise out of it, but I'd be severely disappointed. It's one thing to make a game based on a classical poem, it's another thing entirely to write a sequel to said classical poem expressly to make a game about it.

Graham
70%

I personally wouldn't mind if this series went away quietly, but I recognize what EA probably does as well: a God of War clone could have great success in a world where that series is no longer being made. (Though I wouldn't be entirely sure Sony will stick to that plan indefinitely.)

Eric
35%

One of it's glaring problems was that it was seen as a God of War clone. If they're gonna come out with a second one, they have to give it something distinctively different to set it apart from other games like it. It has to pull off a Saint's Row 2, if you will. I can't see it happening, but if it does, it has to pull off something new.
Microsoft to license out Kinect for next-generation Sony TVs
Microsoft has seen massive success with the Kinect, especially on the PC as the modding community has taken the SDK and run with it, creating a vast array of creative applications and tools. It appears that Microsoft is working on the next audience for the Kinect, as an integrated voice and motion-sensing controller for the next generation of Sony and Vizio TVs. If this is true, I suppose we can say goodbye to losing our remote controls soon enough.
Andrew
5%

Kinect for Sony TVs. Something just seems very, very wrong here. I can imagine the Kinect being integrated into more products outside of the Xbox 360 (and whatever future system Microsoft has coming down the pipeline), but a Sony TV? That just seems pretty preposterous to me. Of all of the companies that Microsoft could team up with for this, I can't imagine Sony being the one.

Shawn
85%

I can definitely see this happening. And I don't think Microsoft would have any more of a problem with Sony licensing Kinect for this purpose than they do with Sony licensing Windows for use on their PCs. Either way, it gives Microsoft more money and more reach with its technology.

Graham
80%

At first, it may sound far-fetched that Sony and Microsoft would work together to people used to the console wars. Beyond software, though, the two businesses make the best decisions for each department. Microsoft pays the DVD license, and much of that goes to Sony. Sony Pictures movies are available to buy through XBLM, and Sony's Crackle service is coming to 360 now too. (Heck, Sony's Vaio computers are PCs, after all.) It's not that crazy.

Eric
75%

Total benefit of the doubt here, but I could totally see Kinect-Infused-Sony TVs happening. 3D has already happened and we've managed to stuff a PS3 into televisions as well. What's stopping Microsoft from doing something in a similar fashion with their rival in tow?
Results:
Sony to offer downloadable PS2 games via PSN
In October, Sony started offering downloadable PS2 games on PSN via their PS2 Classics program. There's only about 6 or 7 titles available right now, but expect that number to rise as time goes on.
Andrew
+40
Eric
0
Graham
-10
Shawn
+45
Grand Theft Auto V to take place in Vice City
Rockstar Games released an intro trailer for GTA V recently that places the next game in Los Santos, not the rumored return to Vice City that people were expecting.
Andrew
-30
Eric
0
Graham
-15
Shawn
-35
New NBA Jam game to release in 2011
EA released the next game in the NBA Jam series on October 4.
Andrew
-20
Eric
0
Graham
0
Shawn
+10
Game no one remembers naming Game of the Year to get a Game of the Year edition in 2011
Two Worlds II, a game no one would ever consider a GotY candidate, received a Game of the Year edition earlier this year from TopWare Interactive.
Andrew
0
Eric
0
Graham
0
Shawn
-20
Blizzard to announce a 4th expansion to World of Warcraft
In a move that honestly surprised no one, Blizzard announced the Mists of Pandaren at this year's BlizzCon.
Andrew
+45
Eric
0
Graham
+50
Shawn
+45
3DS price to drop before NGP US release
In a surprising move, Nintendo cut the price of the 3DS by 30% in August.
Andrew
+15
Eric
0
Graham
-25
Shawn
-20
Mass Effect 3 to feature four-player co-op mode
Bioware announced the addition of a co-op mode to Mass Effect 3 that will take place outside the main story, but give tangible benefits to a player's campaign.
Andrew
-10
Eric
0
Graham
+5
Shawn
0
Super Marvel vs Capcom 3 to be announced at Comic-Con
To almost no one's surprise, 'Super' Marvel vs Capcom 3 was announced at Comic-Con as Ultimate Marvel vs Capcom 3.
Andrew
+35
Eric
0
Graham
+40
Shawn
+45
Capcom to announce a Monster Hunter 3DS game by TGS
Along with the 3DS Slide Pad, Capcom announced a Monster Hunter 3DS game in September.
Andrew
-10
Eric
0
Graham
-20
Shawn
0
Markus Persson forced by Bethesda to change name of next project, Scrolls, by end of 2011
Bethesda and Mojang Games came to an out of court settlement of some kind that allowed them to continue calling their new game Scrolls.
Andrew
+45
Eric
0
Graham
+20
Shawn
-15
Modern Warfare 3 to offer 32-player firefights
Modern Warfare 3 released in November and it only had 16 player skirmishes.
Andrew
-20
Eric
0
Graham
-14
Shawn
+25
Resident Evil 6 to be unveiled at TGS 2011
Capcom didn't end up revealing RE6 at TGS, most likely in an attempt to keep the focus on Revelations and Operation Raccoon City
Andrew
0
Eric
0
Graham
+14
Shawn
+25
Current standings:
Andrew
890
Eric
0
Graham
958
Shawn
665