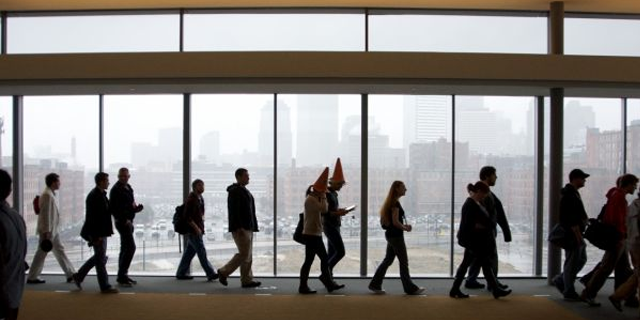 PAX East is finally rearing its head once again, and I could not be more excited. Some members of my sketch group and I will be tooling around on the con floor shooting goofy stuff while I'm not covering the show for Snackbar. But even with all that screwing about and mischief-making, I'll be setting aside time to see as many panels as I can. The panel schedule has been released, and we can all start laying out our plans for maximum con enjoyment, but there are so many! So I thought I'd let you know about a few of the panels you absolutely should check out at the show.
Story Time with Jordan Mechner (aka the PAX East Keynote!)
Main Theatre, Friday 10:30 a.m. – 11:30 a.m.
Jordan Mechner began his game making career in a college dorm room building the seminal 80s hits Prince of Persia and Karateka. He revisited Prince of Persia decades later as a AAA title and a blockbuster summer film, and this year will return to his indie roots with a remake of Karateka. In this session, Jordan will reflect on a lifetime of entertainment industry experiences, from having his dad score his first game to collaborating with Jerry Bruckheimer to the 20 years in between.
Panelists include: Jordan Mechner
This is kind of a no-brainer. Everyone should go to the keynote speech. The magic of PAX East is being in a room full of hundreds of people with whom you instantly have something in common. At the keynote the main hall is packed with gamers getting hyped for the next three days. It's the perfect way to kick off your weekend. Plus it's Jordan freakin' Mechner!
Online Gaming Communities and 'Real Life' Relationships
Cat Theatre, Friday 10:30 a.m. – 11:30 a.m.
Are you are a member of one or more online gaming/website communities? Perhaps the friendships and relationships you've formed online have made their way into your everyday "real life". You are certainly not alone. We will discuss the communities we have created and support, and how they help to form and impact real life relationships for gamers of all types. This popular panel from the past 2 years at PAX and PAX East makes a triumphant return with all new panelists.
Panelists include: Derek 'DSmooth' Nolan [Co-Founder / Host, 2old2play / 2old2type Radio], Faith 'Phoenix' Harrison [RTX Event Organizer / Frag Dolls Biz Dev, Rooster Teeth / Ubisoft], James Stevenson [Community/Marketing Lead, Insomniac Games], Jon 'Weezul' Long [Social Media Manager, Seagate Technology], Alexis 'Tart' Hebert-Ruiz [Community Manager for Xbox LIVE Arcade, Microsoft], Will 'raczilla' Kinsler [Community Manager, Epic Games]
You're all my friends, right? RIGHT?
We're all young people and our generation was the first to grow up 'on' the internet. With all the forums, social networking, comment sections and chat rooms that are connected to every site you visit, you're bound to run into a few people more than once. There are people I've known through the Internet longer than anyone I know in person. People have been married in MMOs. Some people claim these aren't real relationships, but that's ridiculous.
Selecting Save On The Games We Make
Naga Theatre, Friday 11:30 a.m. – 12:30 p.m.
Arcade cabinets, game consoles, cartridges, floppy discs, production documents and source code – These are the artifacts that make up the games we play. Learn about the challenges of preserving these artifacts from preservation panelists Gary Vincent, Raiford Guins and Joe Santulli. Hear what the industry is doing to preserve its video game heritage from Gamasutra contributor John Andersen and why the game preservation realm needs your support. Learn about the many game museums popping up around the globe from our preservationists and why they're becoming the new hotspots for tourists. Get an exciting inside look (and perhaps even a sneak peek) at game preservation projects from our panel that wants to put a spotlight on saving the video game.
Panelists include: John Andersen [Contributing author of "Selecting Save on the Games We Make", Gamasutra], Gary Vincent [President, American Classic Arcade Museum (ACAM)], Raiford Guins [Associate Professor of Digital Cultural Studies, Founding Curator of the William A. Higinbotham Game Studies Collection, Stony Brook University], Joe Santulli [Organizer, Classic Gaming Expo; Founder, Digital Press, Digital Press Videogames]
You can step into a Best Buy and buy a copy of Citizen Kane on the most recent media format you own, but there are plenty of games from only a couple decades ago that are just getting more and more difficult to find. Eventually, there won't be an NES left on the planet that works. And not to mention how rare arcades have become. Games as a medium are built on a shaky foundation that doesn't adapt well to time. With consoles constantly being released and the faces of gaming pushing us toward the future and telling gamers old things are outdated, someone needs to make sure the old classics are still available to play so we can continue to learn from them. These are some of those guys.
Penny Arcade Q&A #1, #2
Main Theatre, Friday 11:30 a.m. – 12:30 p.m., Sunday 2:00 p.m. – 3:00 p.m.
Two mics on stage, two mics in the crowd. Line up for your questions and Gabe and Tycho will do their best to accommodate! And God, please no "who would win in a fight" questions. Note that the theatre will not be cleared before this session as it runs immediately after the keynote address.
Panelists include: Gabe and Tycho!
These are just obvious. You get to ask the guys who built an empire from three-panel poop jokes anything you want! They're the reason you're here, so show them some love.
How to Start Playing D&D
Cat Theatre, Friday 1:30 p.m. – 2:30 p.m.
Let's face it: all those rulebooks and funny-shaped dice can be intimidating. What do I roll to kill the goblin with my sword? What does Magic Missile do again? Why is that gazebo attacking me? The truth is that all tabletop roleplaying needs is a creative gamemaster and some players willing to go on an adventure. We'll help you make sense of esoteric game manuals so you can stop just lurking on RPG websites or hearing about other gamers' campaigns and start actually roleplaying. If you used to play D&D in the 80s or you've trouble with a male-centric hobby, we'll show you how to find a group that matches your playstyle and gets you back into gaming. New dungeon masters can learn how to form a group, while we'll show all prospective players that there's no reason to be afraid of rolling a few dice on a Friday night.
Panelists include: Greg Tito [Games Editor, The Escapist], Ethan Gilsdorf [Author of Fantasy Freaks and Gaming Geeks, journalist and critic for New York Times, Boston Globe, wired.com's GeekDad], Alex Guzman [RPG Networker / Game Organizer, Bad Wrong Fun], Shelly Mazzanoble [Author of Everything I Need to Know I Learned From Dungeons and Dragons., Wizards of the Coast]
I love tabletop RPGs, but it took me forever to finally get into them because of how daunting it can be. Decades of ever-evolving, math-based rules are difficult enough to grasp without thinking about finding a regular group. These guys will give you some tips on how to get into the most popular RPG ever made.
How to Run a Child's Play Charity Event
Wyvern Theatre, Friday 1:30 p.m. – 2:30 p.m.
Want to hold an event that will benefit Child's Play Charity, and help out sick children all over the world? Have a cool idea, but don't know where to start in terms of organization or promotion? Well we are here to help with that! Get together with some veterans of Child's Play Charity Fundraisers as they give you advice on how to develop your event idea, how to get the word out, and how to ensure that everything goes as smoothly as possible!
Panelists include: Joseph Valenti [Webmaster and Head of Staff, g33kWatch], Katie Valenti [Event Coordinator, g33kWatch], Yogi Menghani [Jack of All Trades, g33kWatch], Jamie Dillion [Project Manager, Child's Play], Kristin Lindsay [Foundation Coordinator, Child's Play]
Do you not hate charity? And do you love video games? Then you should put together your own Child's Play charity event! And these guys can help. It's for a good cause.
Extra Credits
Naga Theatre, Friday 7:00 p.m. – 8:00 p.m.
An interpretive dance extravaganza!!! …or maybe this will be the Extra Credits crew talking game design, development and what more we can do with games. I guess you'll just have to show up to find out.
Panelists include: James Portnow [CEO, Rainmaker Games], Dan Floyd [Animator, Pixar], Allison Theus [Concept Artist, Vigil]
There are a bunch of panels on educating through games, but these guys are doing more for that than anyone else. With their weekly series, the Extra Credits crew provides an entertaining and informative lecture on the industry, where it's going, where it's been, and what it's capable of that's constantly growing and educating.
Penny Arcade – Make a Strip!
Main Theatre, Saturday 10:30 a.m. – 12:00 p.m.
Ever wonder what goes into making a Penny Arcade comic? Join Gabe and Tycho in the Main Theatre and take part in creating Monday's comic!
Panelists include: Gabe and Tycho!
Again, show Mike and Jerry some love. And you can even have some input on a Penny Arcade strip! That's forever.
Retrogame Roadshow: Are Your Old Games Actually Buried Treasure?
Naga Theatre, Saturday 8:30 p.m. – 9:30 p.m.
Television shows like "Pawn Stars" and "Antiques Roadshow" have captured the imagination of Americans who would love to find a priceless collectible at a yard sale. There's just one thing missing – classic videogames. No longer. Bring the rarities from your collection, and you'll have a chance to come up on stage and have your games appraised and evaluated by our handpicked panel of experts. Along the way, the whole audience will learn some fascinating tidbits about gaming history!
Panelists include: Chris Kohler [Editor, Games, Wired], Mike Mika [Director, Other Ocean], Frank Cifaldi [Writer, Freelance], Steve Lin [VP Operations, Gree], Joe Santulli [Videogame History Museum]
Even if you're not a "collector," I'm sure something has made its way into your possession that you've never heard of and you'd like to know if it's worth something. Dig up that boxed copy of Shaq Fu and ask Chris Kohler if it's worth what you paid for it (it's not).
Kickstarter and the Future of Independent Games
Wyvern Theatre, Sunday 1:30 p.m. – 2:30 p.m.
It's an exciting time to make independent games, and an even more exciting time to support them! The rising success of game projects on Kickstarter has opened developers, designers, and studios to an entirely new way of raising funds, building communities of new players, and putting more games out into the world. As more people consider alternatives to traditional publishing models, game makers of all stripes are rethinking how games get made. Join Kickstarter's Community Director Cindy Au as she moderates a lively discussion with Paul Levering (2 Player Productions, Double Fine Adventure), Fred Hicks (Evil Hat Productions), Matt Blum (Wired's GeekDad), and Max Temkin (Cards Against Humanity). We'll look into questions of ownership and creative control, the unexpected success of niche genres, and how unprecedented levels of transparency and fan engagement are literally changing the business of games.
Panelists include: Cindy Au [Community Director, Kickstarter], Fred Hicks [Game Publisher, Evil Hat Productions], Max Temkin [Writer, Game Designer, Cards Against Humanity], Matt Blum [Managing Editor, Wired GeekDad], Paul Levering and/or Asif Siddiky [Filmmaker, 2 Player Productions]
Double Fine just made over two million dollars from Kickstarter, causing a wave that allowed many other small projects bump up thousands of dollars thanks to the raised awareness. Independent funding is changing and growing, I suggest you follow it.
Like I said earlier, we'll be wandering the con floor in-between these panels and I want to meet every single one of you who come to the show. If you want to be a part of whatever we're doing at the moment or hang out and talk about games, just let me know on Twitter and I will let you know where we are. PAX is about brotherhood, y'all. Truth.