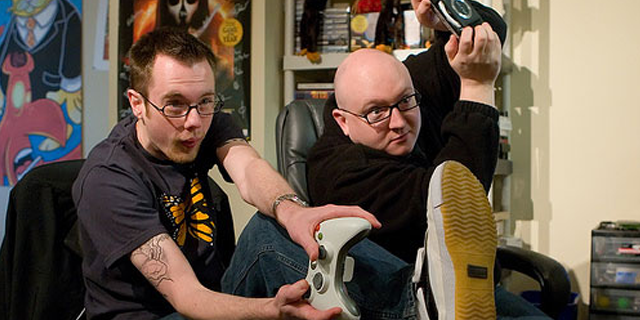 I never need a reason to re-read a good chunk of the Penny Arcade archive. At least once every six months or so, I'll whittle away an afternoon by clicking on a random date and reading onward. When they finally started putting the comics out in print form with the collected trade paperback volumes available at retail, it was all over. I own each of them and they're practically hanging off the spine because PA's gag-a-day format makes it so easy to pick up and hard to put back down. Gabe and Tycho just celebrated their 13th anniversary as the creative team behind one of the most wonderful and enduring pieces of internet humor ever.
As I go back through the archive in such big chunks, I start to realize a few things about my relationship with Penny Arcade. Clicking next on hundreds of pages reminds me not only how video games have affected me throughout my life, but Penny Arcade itself. I discovered PA nearly a decade ago, and since then the first thing I do every Monday, Wednesday and Friday morning is check to see if the new strip is up. And I think about all the people I've introduced to the comic.
Each time I show PA to someone who has no idea what it is, I get to watch them travel down the rabbit hole of their success and realize that these two guys were able to build an empire on dick jokes. After a couple years doing the strip, Mike and Jerry started their own charity, which now raises hundreds of thousands of dollars each year. After establishing Child's Play, their next venture would be creating PAX and later PAX East. What started out as a gathering of like-minded individuals to share their love of gaming has expanded into the biggest consumer game convention on both coasts. If you've never made the trek to a PAX, you absolutely must. Regardless of how much you like video or tabletop gaming, PAX is one of the most wonderful experiences you can imagine and has practically defined what community can accomplish.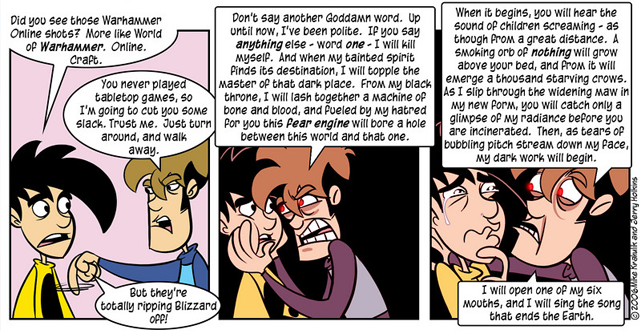 Over three days in a building full of thousands of people, there is not a single person there with whom you can't have a conversation. Simply stepping onto the convention floor is an emotional experience in itself. I've been to many conventions in my day, but never have I felt like everyone in the room loves something just as much as I do. So much so that we dedicate our lives to it, dress up like our favorite characters and travel miles upon miles to share that love with someone else. Each year (well half a year really, there are two) Mike and Jerry practically kill themselves to set this thing up. While running an entire show and worrying about their own panels, they still find the time to connect with the public. It's not a rare sight to see Mike or Jerry wandering the floor or popping into the tabletop gaming area for a quick D&D sesh.
That really goes for any of your heroes who may be attending the con. Last year I was able to stop Jeremy Parish for about 10 minutes to talk about games writing, watched Frank Cifaldi buy a $200 copy of Snatcher for Sega CD and walked next to Tim Schafer. (I was too shy to talk to him.) At Comic Con you have to pay 40 bucks to talk to the talent, but even if they're behind a table at PAX you'll get the time of day. Just ask Rocco Botte.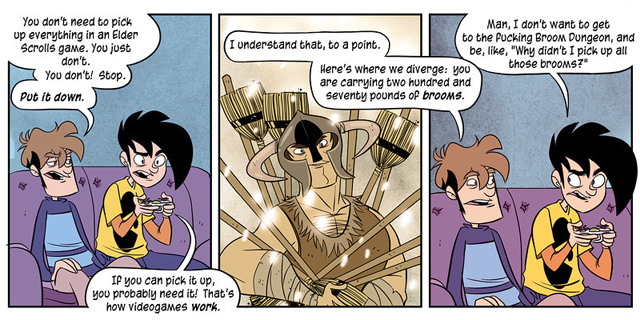 In the last 13 years, Mike Krahulik and Jerry Holkins have been able to create an empire around a three panel comic strip. We may not still have Penny Arcade as a comic in another 13 years, but with all the side projects like other comics, the Penny Arcade TV series and PAX, the strip's spirit will live on in some form. Happy birthday, Penny Arcade. See ya at PAX East.