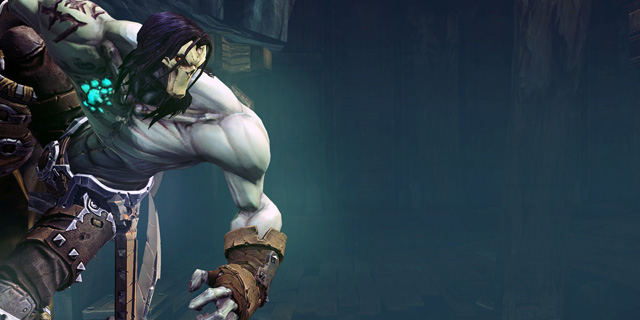 The aftermath of THQ's dissolution and auction has left much uncertain in the industry. What is the fate of Darksiders? Will Patrice Desilets remain at his former employer? And will Volition's buyer also pick up the Red Faction IP?

Platinum Games to buy Darksiders through THQ asset sale
In one of the surprise results from the THQ auction, Vigil Games and the Darksiders franchise went unsold. Shortly afterward, Platinum Games reached out to the former Vigil employees and also mentioned interest in purchasing Darksiders. Will it end up actually doing so or will someone else buy it?
Andrew
55%
Platinum Games could do great things with the Darksiders franchise. One could argue that it would practically be a different franchise at that point, but I think that would be a great home for it. That being said, there really is no way to know for sure how something like this would happen. We don't know when the next THQ IP sale will happen, and we don't know if Platinum is actually willing to get involved or it's just a few people from the studio who are interested. I think it's possible, but not probable.
Shawn
90%
I think Platinum Games makes the most sense for the Darksiders franchise and, having gone unsold in the first auction, it should be a fairly cheap purchase. Given the fact that it's the type of game it make extremely well, I'm sure Platinum realizes this too, and would love to have it for the right price.
Graham
20%
I think the two teams would get along swimmingly, but heck, Platinum doesn't own most of the IP it already created, so picking up something external seems weird. I can see some ex-Vigil hires heading overseas, and I can also see a publisher buying Darksiders with the intention of hiring Platinum to develop it, but a purchase is unlikely.
Eric
45%
There's a chance that this could happen, but it doesn't seem likely. While the company has done wonders for the games it's released and has quite a history of great games, it leaves the question whether or not the Darksiders series would do well with it. Considering most American games are a hard sell in Japan already, Darksiders might be a risk for them.
Ubisoft to keep Patrice Desilets employed through 2013
Patrice Desilets and Ubisoft have somewhat of a checkered past. As creative lead at Ubisoft Montreal, Desilets was responsible for creating Assassin's Creed, but he left the company during development of Brotherhood and shortly after joined THQ Montreal, poaching a number of veteran employees from Ubisoft in the process. Now that Ubisoft has purchased THQ Montreal, will it keep Patrice around for a second run? Or will he find himself looking elsewhere for a job soon?
Andrew
70%
If Patrice can work something out with Ubisoft that keeps him with his company and continuing to work on the two projects that were in development, I could see this being a great relationship. If it tries to bring him back over to their studios to continue working on Assassin's Creed, a franchise he pioneered, or something else entirely, I'm not sure if the relationship will work. Can Patrice even leave the studio if he wanted, or is he contractually obligated to stay? I'm willing to believe that Ubisoft wants to keep the studio it just purchased together, so hopefully Patrice can continue working on the projects he has helped create.
Shawn
85%
Patrice is a highly regarded designer, and he left Ubisoft with the specific mission to create the two games in development at his new studio. I'm sure that Ubisoft, having reaped the benefits of the last series he oversaw, understands that they should keep him around for the duration of these as well.
Graham
90%
I have no doubt that Ubisoft wants Desilets back, and it doesn't hurt that he set up a Ubi-esque operation at THQ Montreal. That said, I don't think Desilets will be comfortable with the situation. Even so, it's likely he'll stick it out through the release of a game, and look for a quiet exit later. (Also likely: a contract issue. The situation could be very similar to BioWare.)
Eric
10%
It doesn't seem likely that it's going to keep him. While he might be responsible for creating one of its highest-selling franchises, there's been a significant dip in quality for these games. It could either bring another Connor game out for the series or venture out into other ideas with the people it absorbed back into the company, but I doubt we'll be seeing Desilets being any part of it.
Koch Media to purchase Red Faction through THQ asset sale
One of the surprise filings from the THQ auction was word that the Red Faction IP was not part of the Volition sale to Koch Media. It will be sold eventually as THQ sells off its remaining catalog of assets, but as the highest profile franchise remaining, curiosity is understandably high regarding just who will end up owning it. Will Koch Media reunite it with Volition?
Andrew
55%
Before Saints Row, I associated Volition with Red Faction. While the franchise was never the best around, the first two were solid first-person shooters and the third showcased the team's ability to bring something relatively linear into an open world. Armageddon was a complete mess of a game, and nobody really latched onto it the same way they did with the previous games. THQ's decision to stop supporting the franchise was the right move to make, leaving me to wonder if it would be best suited in the hands of another developer. Does Volition even want to continue working on the series? Is it even viable at this point? It's hard to say, but I'm not sure who else would want to buy it and support it, so it's more likely than not.
Shawn
60%
I'd love to see Koch Media buy Red Faction so that Volition could create a proper sequel to Guerrilla, but considering the disaster that was Armageddon, it's probably best for someone else to take the reins of the franchise. That said, I still think there's better than even odds that Koch decides to buy it anyway.
Graham
70%
I think Koch could live without Red Faction and set Volition up working on Saints Row from now until the end of time. That said, it's simple economics: Red Faction is worth more with Volition than apart from it, so Koch probably won't face stiff bidding opposition.
Eric
10%
Doubt it. As far as I know, the series is pretty dead. While it might be nice for Koch to reunite it with Volition for another game, the question is will people still be interested in the series after a two-year absence? At that point, is it worth it? Perhaps Koch is better off not wasting money on it.
Current 2012-13 Season standings:
Andrew
65
Eric
-108
Graham
162
Shawn
-119
Starting this season, scores are centered on a zero point to account for occasional panelist changes.
New Yoshi's Island game announced for Wii U by end of 2013 confirmed. Andrew 85, Graham 75, Shawn 75, Eric 80.