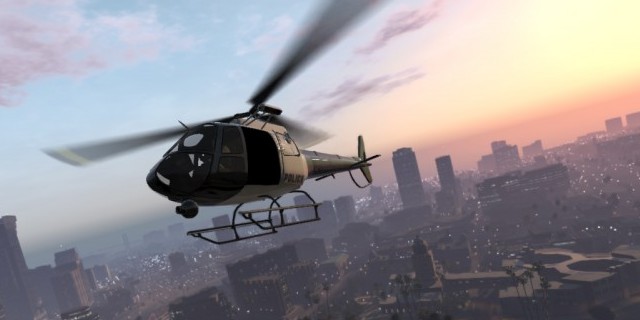 This week in the Speculator, we wonder if Sony's future is partly cloudy, ponder San Andreas' skies in the Miiverse and watch out for ominous storms around Luigi.

PlayStation 4 to have a cloud gaming feature
We know that Sony bought Gaikai earlier this year, but has yet to actually do anything with it. Given that Sony is actively anti-used games and anti-rental games, rumors have started lately that Sony may use Gaikai's technology to enable their own rental and digital purchase service via cloud computing on the PS4.
Andrew
95%

This seems like it will be a big component of Sony's next console and an obvious next step for them to take. I wouldn't be surprised if we don't see it at launch, but sometime later in the console's life cycle. Either way, I think it's a safe bet that it will happen.

Shawn
100%

Sony bought Gaikai for a reason, and this has to be it. Considering its cashflow problems over the last year, it isn't going to be dropping $300 million plus on a company if they don't expect it to be a major part of its strategy going forward. Obviously, it won't disable physical rentals or used game sales, but this will definitely help Sony make a dent in any potential lost revenue from those markets.

Graham
90%

If Sony doesn't implement Gaikai in some way, it's certainly a wasted purchase, and the next home system is the most logical place to start. (Though we could see some serious Vita support too, if it works.) The most logical thing I've heard is using it as a form of software backward compatibility without actually needing to run the game on the system. Just verify the disc and go!

Eric
30%

If they want to further alienate their audience, they'll do that. Whether they like it or not, used games are a large part of the industry. If you're going to shun people for purchasing used version of their own games, then it just doesn't seem worth it.
Grand Theft Auto V to get a Wii U release
Plenty of formerly PS3/Xbox 360 only releases have been getting a Wii U port announcement recently, though Black Ops 2 is the only game to announce such a port for a timely three-platform release. With the Wii U powerful enough to hold its own in HD gaming, rumors are once again popping up about a Grand Theft Auto game getting a Wii U release. Will Rockstar put GTA V on the Wii U? Or did Chinatown Wars sour them on releasing games on Nintendo platforms?
Andrew
65%

This is a tough one. On one hand, it seems like a smart idea to bring a big game like GTA V to as many consoles as possible. On the other hand, Rockstar and Nintendo have never had the best relationship. I'm leaning towards yes since it seems like a smart business decision in the long run.

Shawn
75%

Sure, why not? The only reason, we've been told, that Grand Theft Auto hasn't been on a Nintendo console this generation is because of the power of the Wii compared to the other systems. With that problem removed, and with so many people so excited about the third-party game potential on the Wii U, it only makes sense to release it there as well.

Graham
45%

Grand Theft Auto isn't the cornerstone of the industry that it used to be. Yes, it will sell, but I don't think Nintendo's going to put up any incentives to get it on the Wii U, since it likes being the "family-friendly" device and can avoid the PR firestorm every time a major GTA release drops. Also, it's funding Lego City: Undercover, which seems to be its Nintendo-esque answer to GTA anyway.

Eric
70%

I'm sure this will happen to some degree. The Wii U GamePad brings a lot of possibilities and options within games, whether they're revolutionary or not. They could add a couple of extra features in this game that the other two version might not have. I mean, Rockstar has released GTA on a Nintendo platform before, so the idea of this isn't unusual.
Luigi's Mansion: Dark Moon to be released on Wii U
Luigi's Mansion: Dark Moon is, as far as Nintendo has said, getting a 3DS release and that's all. However, a UK retailer put up (and has since taken down) a product page listing of "Luigi's Mansion 2" for the Wii U. Is this a simple listing error? Or is Luigi going to be sucking up ghosts on the Wii U too?
Andrew
10%

This seems like nothing more than an error on the part of the retailer and nothing more. I doubt Nintendo would bother porting or focusing on a Wii U version of a 3DS game, although I think there's a good chance we'll see a new Luigi's Mansion game on the Wii U eventually.

Shawn
25%

It's certainly more likely that this is a listing error, but I can't help thinking that Luigi's Mansion might actually work better on the Wii U than the 3DS, which gives me pause in saying this is absolutely not happening.

Graham
25% 

This feels like a retailer mistake, but a franchise like this feels like exactly what Nintendo would use for an experiment like that. Especially if a digital purchase nets you cross-buy functionality.


Eric
90% 

Yep. Tie-in features through both versions mean endless possibilities.
Current 2012-13 Season standings:
Andrew
-3
Eric
-28
Graham
84
Shawn
-52
Starting this season, scores are centered on a zero point to account for occasional panelist changes.