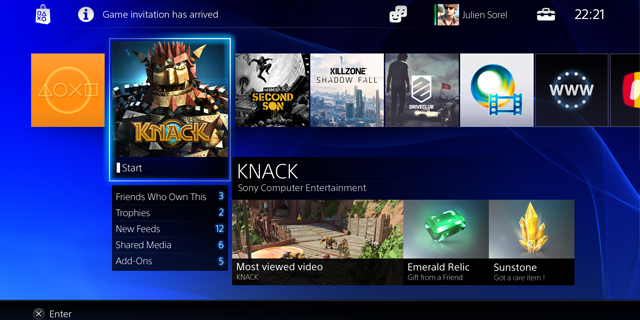 This week, we talk about the possibilities of a bundled PS4, Left 4 Dead 3 and Bully 2. Don't skip this one, or you'll be a zero!
Sony to offer a PS4/PS Vita bundle in 2013
The Vita has continued floundering in 2013, despite Sony's efforts to improve its lot via PlayStation Plus. Interestingly, the off-screen play that is promised for PS4 games using the Vita may be its saving grace. Sony has never been averse to having multiple bundles of its new consoles, and recently there have been rumors that it will be offering a bundle that includes both a PS4 and a PS Vita this year.
Andrew
10%
If this happens (which I think it eventually will), I don't think we'll see it this year. Sony probably wants to see the potential spike in Vita sales on its own with the promise of heavy PS4 connectivity. If a bundle comes, it will be next year.
Shawn
20%
I think Sony will definitely do this in the future, perhaps as soon as next summer. But this year, there's no reason to do this for PS4 sales, and a price drop for the Vita comes with more promise of increased sales. The revival of the 3DS was linked directly with the price drop, and the momentum was increased further with software. But the price drop is what kickstarted it.
Graham
20%
I think this could definitely happen sometime down the road as a way of pushing this integration, but in the first holiday season, there will be two reasons this won't happen. The first? Supply is small, and there's no reason to bundle to move units. The second? Price is the battlefield for launch perception, and Sony doesn't want any version of the PS4 to be more expensive than XB1.
Lucas
15%
I seriously doubt this; that would be throwing in the towel and admitting the Vita is a disaster. That's something Sony never did with the PSP, which eventually built up a neat, insular library of its own. I have hope for the Vita yet!
Left 4 Dead 3 to be revealed in 2013
Recently, more and more rumors have pointed to the belief that Left 4 Dead 3 was in development at Valve, but the most recent one is based on photos that purport to show Left 4 Dead 3 in Steam and using the Source 2 engine for assets. Has Valve finally learned how to count to three, or is this more optimistic thinking?
Andrew
20%
Considering the fan reaction to L4D2's announcement, I think people would be happier to see more L4D2 updates rather than an entirely new game so soon. Plus, it seems Valve is less interested in developing new games over creating new updates for Steam and the development of their eventual Steam-powered console.
Shawn
50%
Valve cannot count to three. This has been established time and again, as every franchise it creates has simply fallen off its radar after a second entry. That said, if any game fits the mold of what Valve has been focusing on for the last five years, Left 4 Dead is it. So, it's definitely in the works. There's no reason for Valve to comment until it's good and ready, though. Will that be this year? Maybe. Valve doesn't play by the rules everyone else does though, so who knows?
Graham
40%
Valve is not a normal company. It does not follow normal rules. It is developing this game, but has no pressure to release it or announce it. But it could do it anyway, given the leaks. Who even knows?
Lucas
75%
Sure! I'm honestly surprised we didn't see a third game earlier.
Bully 2 to be announced by E3 2014
Bully was released to critical acclaim, but thanks to a torrent of misinformation, was not the commercial success Take-Two had hoped. If a recent rumor is true though, the franchise may be getting a second chance. Take-Two recently filed a new trademark claim for Bully, spurring thoughts that it may be on the verge of a comeback.
Andrew
50%
If we're ever going to get a sequel to Bully, now is probably the time. And by now, I mean within the next five years. That being said, its announcement seems inevitable to me, I'm just not sure it will happen before Agent is trotted out again, for example.
Shawn
35%
I'd love to see a Bully 2 announcement sometime soon. Grand Theft Auto is not a thing I care about, but I love the Rockstar formula. That said, unless Microsoft is willing to foot an exclusivity payment for it, I find it more likely to be behind Agent in terms of priority, maybe even behind a theoretical L.A. Noire 2 or Red Dead Redemption 2.
Graham
15%
I would be interested in the game, but it's probably not a thing that will exist soon. Hopefully eventually! Until then, Take-Two will lock down trademarks and re-release games in many forms.
Lucas
35%
Eh, maybe. Like we said, it wasn't a huge success, and a trademark renewal could mean any number of things that aren't a sequel.
Current 2013-14 Season standings:
Andrew
0
Lucas
0
Graham
0
Shawn
0
Scores are centered on a zero point to account for occasional panelist changes.