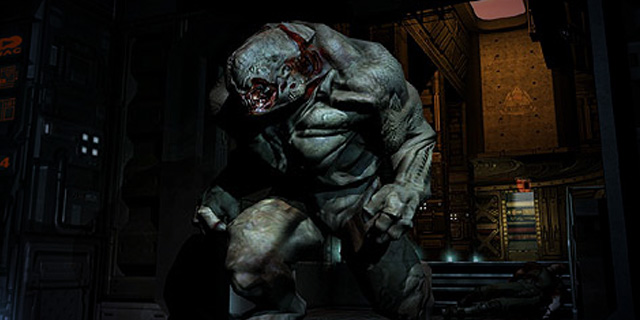 This week we welcome aboard a new panelist, Eric Albuen. Oh yeah, and we have some new rumors.
MGS: Rising announcement coming in November
November's Official PlayStation Magazine had an advertisementwarning about big news coming in the December issue. This advertisement took the form of nothing but a giant exclamation point in greenish color. Opinions are swirling madly, but the prevailing one is that this has something to do with the Metal Gear Solid series, with Rising being the primary possibility. Could it be that Konami will finally reveal more about this assumed dead entry in the series?
Andrew
80%

It's either more information about Metal Gear Solid Rising or a new Metal Gear game. Although both are possible, I'm leaning towards more info about Rising. It has been quite a while since we've heard anything about it (E3 2010 was the last time, I believe), so we're definitely due for some more news regarding it. Although, knowing Kojima and Konami, it could really be anything MGS-related at this point.

Shawn
65%

If Rising is not dead, then this is without a doubt the time to give more information about it. That said, considering Rising was originally supposed to be a big Xbox 360 release, not a PlayStation 3 release, makes me wonder if it is something for a new game in the series. In the end, I'll lean toward an announcement for Rising, simply because it doesn't make sense to vanish a game that would sell as well as Rising would.

Graham
99%

Not only will it be an announcement, here it is: Rising, once the darling of Microsoft's E3 event, will shift focus back to the PS3 with a release window announcement. It's a no-brainer given the Japanese market (which is more profitable now in this economy and has almost no 360 presence), and it's entirely possible we'll see it on Vita too. (But I wouldn't bet on that.)

Eric
80%

With a lot of recent news surrounding the HD releases of the Metal Gear series, especially with the game finally being ported to the 360, I'm pretty sure that some announcement will follow after gamers are re-acquainted with the series. Once people get used to hearing Metal Gear Solid being associated with the 360, Konami will finally announce something.
Doom 4 to be released in 2012
Doom 4 was announced in 2008, but has been largely ignored since. With the release of Rage and the subsequent freeing up of id Software, it seems logical that they would join the Doom 4 team in development. Could Doom 4 end up being Bethesda's big game next year?
Andrew
15%

I really can't see this happening. We haven't even seen the game, much less heard anything about it besides the fact that it exists. If anything, we'll see a big reveal for it sometime next year, but it won't actually be out until 2013. You have to remember this is id we're talking about. They take their time with games and make sure they are as ready as they can be before launch, at least that's what they claim.

Shawn
30%

I would usually write this off entirely because id takes their sweet time releasing stuff. However, with no noteworthy games coming from any Zenimax studios next year at all, that we know about at least, it is conceivable that pressure could be placed on them to hurry their normal timeline.

Graham
20%

Holiday 2012? Maybe, but we need to hear about it before the end of winter for it to have a shot. It's not the dumbest thing in the world to wait until after Christmas to start hyping something, though, guys, and Skyrim has the marketing team's hands full, understandably.

Eric
40%

It's possible, but I doubt it's going to happen, considering how far they've spaced out numbered releases of this game. Give it another two years of silence, an announcement somewhere in between, one year of hype, and then Doom 4 will finally be released.
'Xbox Next' to be revealed by E3 2012
Nintendo has unveiled their new system, dubbed the Wii U, with a fall 2012 release date. Sony and Microsoft have stayed relatively quiet about their console plans, though Microsoft has released job listings for hardware and software engineers to work on their new console. It sounds like Microsoft might be planning to steal the thunder at E3 2012 though, with a reveal of their next console, the 'Xbox Next'
Andrew
85%

It makes sense, really. We're gearing up for the end of this generation, so with the WiiU supposedly launching next year, I would be willing to believe Microsoft would make their move next. We won't actually see the console until 2013 at the earliest, but I could see it either being officially unveiled or at least announced in some capacity at next year's E3.

Shawn
85%

The Xbox 360 is already 6 years old and new systems are generally shown for 2 or 3 years at E3 before they actually come out. If Microsoft plans on releasing a new console before 2014, at which point the Xbox 360 would be 9 years old, they pretty much have to say something about a new console at some point next year. What better time to do so than at E3?

Graham
60%

The 360 is on the top of the market these days, the Kinect refresh has been very successful for Microsoft and, despite launching first, the platform is the most secure going forward. So why will they at least tease the next console? Because Sony will, and they can't get left behind. I still don't expect a release before Holiday 2013 at the earliest, though.

Eric
30%

I'm doubtful, but I wouldn't be surprised if Microsoft did announce something at this point. The 360 still has a lot of fight in it and considering Nintendo's luck with the 3DS, the Wii U might be a hard sell on some people. Either way, we still haven't seen the huge wave of Kinect-enabled games and the transformation of the 360 into a cable box yet.
Current standings:
Andrew
800
Eric
0
Graham
888
Shawn
560