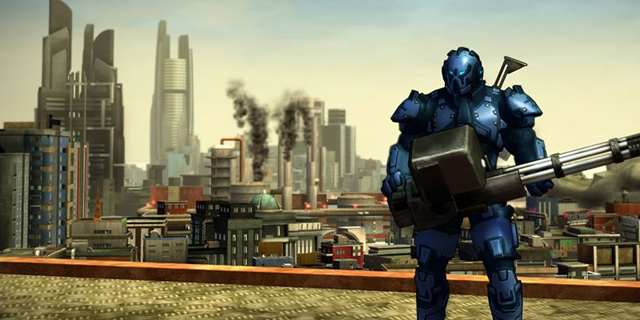 It's a new season of Speculator! Lucas joins the panel to discuss some enticing possibilities: Crackdown 3? Fallout 4? How about some exclusivity business for Capcom's Deep Down?

Crackdown 3 to be revealed in 2013
During the Xbox One reveal, a Crackdown image was spotted on the dashboard during a Kinect demo. According to Phil Spencer, it wasn't accidental, which of course has set the rumor mills churning that a new entry in the series is in the works, despite the fact that Ruffian Games says otherwise. Will we see an announcement of a new entry this year?
Andrew
80%
Sure, a new Crackdown could work for the Xbox One. It's not the most popular of Microsoft's franchises, but during the first year or two they will want all of the exclusives they can get.
Shawn
70%
Microsoft promises a few dozen first-party games in the first year of the Xbox One's existence. And honestly, it just doesn't have the roster of studios or properties to ignore many of them. Perfect Dark is likely not making an appearance for another console launch period, so Crackdown probably fits into that unrealistic action-style game. Gamescom or the VGAs make sense to me as times when more games will be revealed, and I'd be surprised if Crackdown isn't among them.
Graham
80%
With all the hints dropped by Microsoft executives, it's basically going to need to be announced this year to have any sort of reveal impact. Before all this, I wouldn't have expected a sequel, but… now?
Lucas
25%
Maybe? Crackdown 2 didn't really seem to take off like the first one did, and while I wouldn't be surprised if Crackdown 3 is a thing that is happening, I feel like the latter half of 2013 is largely spoken for already.
Fallout 4 to be revealed in 2013
Fallout 4 was, to the surprise of some, not shown or even announced at E3 this year, despite the length of time since New Vegas was completed. This, mixed with rumors of an unrevealed and NDA-blocked game being shown behind closed doors at E3 by Bethesda, has caused rumors about its existence to spring up across the Internet. None of them agree on systems, release periods or even release years, but they all agree that it will be revealed officially at some point this year. Is there any truth to this, or is it simply wishful thinking?
Andrew
45%
I don't think we'll see a Fallout 4 reveal until next year. Bethesda could pull out a late VGA reveal like it did with Skyrim, but I'm doubtful. It seems more like an E3 2014 reveal to me, or at least sometime around then.
Shawn
75%
Fallout 4 feels very much like a VGA announcement type of game to me. Aside from the fact that Bethesda is almost certainly working on it, (what else could its Fallout/Elder Scrolls team be working on?) it's a hugely popular series, something that more and more in recent years means VGA announcements or trailers.
Graham
50%
Man, this is a toss-up. It certainly deserves a holiday release, so since we don't know about it yet, there are many opportunities over the next 11 months or so. Only half of those are in 2013. But yes, Fallout 4 is happening.
Lucas
20%
This game is inevitable, for sure, but I think Bethesda is really pushing Evil Within this year, and a new Fallout would likely overtake anything else they're doing.
Deep Down to be a PlayStation 4 exclusive (timed or otherwise)
Capcom showed off a new game, Deep Down, during the PlayStation 4 reveal in February, but it was noticeably absent from E3 despite the push by Microsoft and Sony to show games on their new systems. According to some rumors, this could be partially due to the fact that Deep Down will be a PlayStation 4 exclusive. At this point, the only console it has been linked to remains the PlayStation 4. Will this remain the case?
Andrew
20%
It was absent from E3 because it was a tech demo with a working title. Not to say we won't be seeing it as a full game eventually, but I think it's the sort of project that we won't be hearing more about for quite a while. I think Capcom is more likely to bring out its next big game on as many platforms as possible, so I'm not convinced it will be an exclusive, timed or otherwise.
Shawn
40%
Normally I would say this has almost no chance of happening. but I think Microsoft has made a number of missteps in regards to the Japanese market and development. With the Xbox One not even releasing in Japan, pretty much any game that is likely to be more popular in Japan than outside of it has little incentive to be released on it. Granted, Microsoft's foothold in Japan is more like a toenail, but at least it was present. That, and the fact that Capcom is more willing than others to go exclusive, gives me some hesitancy in simply saying that it won't happen.
Graham
40%
The question isn't whether it's PS4-exclusive. It's whether it's a game at all. I think we'll see that work in some sort of project, but if it's incorporated into a franchise that already exists, that isn't the same sort of thing. If it does become a thing… the architecture is similar now, so it doesn't hurt to, at least in the West, release on all platforms.
Lucas
50%
Capcom is usually pretty multiplatform-friendly, at least on consoles, but every now and then there's an exception. The presence of the game at the PS4 announcement conference and absence from Microsoft events has me leaning towards yes, but not overwhelmingly so.
Current 2013-14 Season standings:
Andrew
0
Lucas
0
Graham
0
Shawn
0
Scores are centered on a zero point to account for occasional panelist changes.