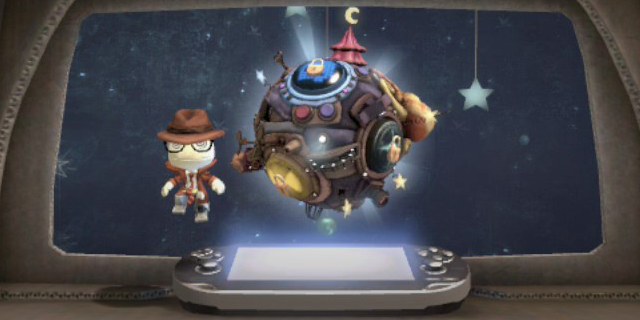 Is Sony working on a new LittleBigPlanet for the Vita? And what's up with all these persistent connection rumors?

Next Xbox console to require 'always-on' Internet connection
This rumor has been surfacing for weeks, but it exploded this week when a Microsoft executive incurred the wrath of the internet over comments regarding an always-connected console. Microsoft has dismissed his comments as being personal, but hasn't confirmed or denied the idea behind them, that the next Xbox will require an Internet connection to work.
Andrew
45%
It seems like this rumor simply isn't going away until the reveal of the system itself. I get a feeling that Microsoft wants to do this, but the market will react poorly to it, plain and simple. Sales might be strong at first, but I doubt this always-online issue will stop being an issue anytime soon. It's something that has ultimately backfired on every major company that has tried to incorporate it. That said, Microsoft releasing another Xbox might be enough to get the people it wants on board no matter what (even beyond initial sales). I'm going to lean towards no, but the potential is there.
Shawn
40%
I don't think there's any doubt that Microsoft wants to do this, but I actually think it's less likely now than it was two weeks ago. Microsoft has seen first-hand exactly how people will react to such a decision, and it isn't pretty. This may happen anyway, but right now I think Microsoft backs off on it this time around.
Graham
10%
This is a matter of shades of gray. I have no doubt that we'll see more efforts to prevent piracy and used sales, and it's possible that many features will be locked to first-use players or connected play. But, as it's competing with Sony, it won't be complete in that way. Some things will work offline. That technically means this is false.
Eric
40%
I wouldn't want them to have it, but I wouldn't put it past Microsoft to do something like this. I mean, it keeps digital purchases verified and puts pirates in check, but it ultimately seems unnecessary. I know developers want their consoles to be online to get the fullest experience, but it would also drive away a lot of people if this is ultimately enforced. Myself included.
Sony to reveal new LittleBigPlanet title for Vita by E3
The Vita has been hampered by a lack of strong first-party titles in the year since release, to the detriment of its sales and potential future. Recently, a rumor has popped up that Sony plans to alleviate that issue, at least slightly, by releasing a new LittleBigPlanet title for the Vita later this year.
Andrew
10%
Whatever Media Molecule is working on is for the PS4 or is the upcoming Tearaway, so I'm not convinced the Vita will be seeing another LittleBigPlanet anytime soon (if ever). Handing it off to another developer could work, but I'm not sure if that franchise is enough to support the handheld.
Shawn
70%
Sony seems to love the LittleBigPlanet series. In fact, I think Sony loves it too much. That said, LittleBigPlanet Vita did get positive reviews and Sony has signed an exclusivity agreement with Double Eleven, the lead developer for it. Given that no projects have been revealed there since that agreement, I think it's likely that a new project is announced at E3, a project I'm betting is another LBP game. It's not enough to save the Vita, but it's a decent start.
Graham
10%
Less than a year after the first Vita game, one that most (us included) thought was full-featured and impressive? No, not yet. This year's LBP announcement will likely be the rumored third PS3 game, developed by Sumo. Double Eleven could be working on a Vita sequel, but not for release soon.
Eric
80%
Sure. A new LBP game would be nice; everyone always seems to enjoy those. Considering the second one on the PS3 was the one that really set the series off, I could see the second Vita game doing the same for the system as well.
Watch Dogs to require internet connection on 8th-gen consoles
Hot on the heels of the persistent connection rumors that Microsoft is dealing with, a new rumor that Watch Dogs would require a persistent connection on any 8th-gen system. The gameplay we've seen so far seems to suggest some kind of 'connected single-player,' though we've had no firm details at all regarding that aspect of the game. Will Ubisoft go down this route, even after removing such requirements from its PC games?
Andrew
40%
Ubisoft has learned its lesson from their PC DRM issue, so I'm not sure forcing this on Watch Dogs would be the best move for them. It is being pitched as a connected world, but it could be something you would simply be able to opt out of if necessary. If it's successful, Ubi could go down this route with sequels, but I doubt it would be something to focus on for the launch of what could be the next Assassin's Creed franchise in terms of popularity.
Shawn
45%
I'm torn on this one. On one hand, Ubisoft has finally realized that persistent online for DRM does more harm than good. On the other hand, Watch Dogs is one title I would actually believe the developer on, if told that it was required for core game mechanics. I think in the end Ubisoft will not require it, but will strongly suggest that people take part in the enhanced single-player that it provides.
Graham
20%
Again, maybe? More likely, there'll be lots of interesting features if you're connected. Heck, Persona 4 Golden had interesting online features for solo games if you're connected. It's not evil, and it encourages legitimate purchases.
Eric
40%
Same as the Xbox. Possible, but not the right path to go down if you want to sell units and keep customers. While it keeps the experience fresh having the content in-game constantly changing, developers have to keep in mind the people who aren't as lucky to have Internet all the time. Honestly, it's something that seems to be taken for granted these days.
Current 2012-13 Season standings:
Andrew
134
Eric
-205
Graham
184
Shawn
-104
Starting this season, scores are centered on a zero point to account for occasional panelist changes.
Borderlands 2 to add new classes other than Mechromancer via DLC. confirmed. Andrew 55, Graham 75, Shawn 65, Eric 90.
Ouya will release on time confirmed. Andrew 75, Graham 60, Shawn 80, Eric 35.