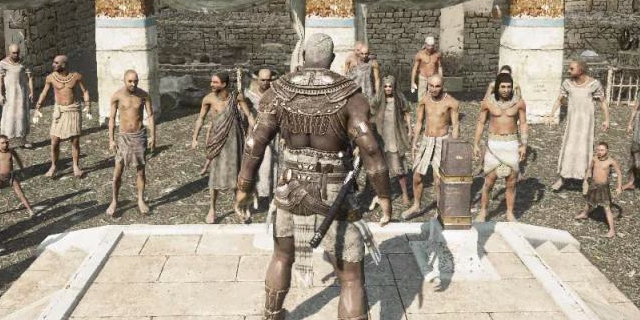 This week we've got remakes, reboots and potential next-gen releases to ponder. Is the Dragon Quest train moving to the 3DS? Is Thief shifting to next-gen? And is that shot above from a new Prince of Persia?
Dragon Warrior (Quest) VII to get a 3DS remake
Square Enix has taken to remastering many of its older Dragon Quest games for Nintendo's handhelds over the past few years, and rumor has it that, with the 3DS being able to handle PS1 and PS2 ports, Dragon Warrior VII will be the next one in line.
Andrew
85%
Dragon Quest VII isn't the most popular game in the series, but the DS remakes were popular both in Japan and in North America, so continuing that tradition seems like a smart choice on Square Enix's part. And considering the mixed reaction to Dragon Quest X's MMO-like vibe, they could do well to give fans something familiar, even if that something is a game they've already played before.
Shawn
95%
Square Enix has done great sales with the Dragon Quest IV-VI remakes on the DS and, while DW7 did arrive here unlike the others, it is relatively unknown here so a remake would definitely increase it's exposure and audience. Not to mention: we need some more lengthy RPGs on the 3DS.
Graham
70%
It's next in line, with all previous games getting re-released, but it isn't exactly anyone's favorite. That said, if DQ8 gets released first, it basically erases the opportunity. Yeah, this will probably happen, though possibly not that revamped.
Eric
35%
As much as I would love it to happen, it doesn't seem likely. Square Enix these days, for me, seem to reject anything that might be a good idea, even if it is a proper investment that could potentially make them more money off an old game. If it does happen, then I could see it looking graphically like Tales of the Abyss.
New Prince of Persia game to be announced in 2012
Ubisoft has been quiet on the Prince of Persia series ever since the 2008 reboot. Now, a screenshot has appeared that is purported to be leaked from a new Prince of Persia game. Will Ubisoft be announcing a new title in the series soon? Or will they continue sitting on the franchise?

Andrew
70%
Ubisoft loves making money and the Assassin's Creed series is making them a lot of money, so why not take another one of their beloved franchises in that direction? It makes no sense, but if the supposed leaked screenshot from the new "Prince of Persia" is to be believed, then that's exactly what they are doing. It would be the wrong move on their part instead of focusing on developing the Prince of Persia brand based on the 2008 release, but if they can get Assassin's Creed fans interested in the new game, that's probably a lot more money for them. Either way, a new Prince of Persia game seems likely, let's just hope it remains faithful to the series.
Shawn
75%
You know, I've never played a Prince of Persia game, but from what I understand, the original trilogy had platforming and parkour that greatly influenced the Assassin's Creed series. I see no reason why, now that AC is a bigger series, it wouldn't in turn influence a new entry in Prince of Persia. I don't see Ubisoft sitting on the series for much longer, so I do expect to hear about a new entry soon.
Graham
40%
Prince of Persia is no Assassin's Creed financially, but let's remember it's not Karateka either. Ubisoft's working on another game, because it'll make money. It's just a question of whether we'll hear about it this year. If it's not releasing this holiday, why overshadow actual releases?
Eric
95%
Definitely. It's been a while since a Prince of Persia game came out. Maybe something with a new Prince?
Thief 4 pushed to next generation of consoles
Thief 4 was revealed in 2009, but no information on it has been forthcoming since. A recent rumor in the British release of OXM says one reason is that it has been moved to a next-generation release only.
Andrew
30%
Eidos Montreal, the team behind the critically acclaimed Deus Ex: Human Revolution, has been working on Thief 4 for quite some time. Now that DE:HR is out of the way, I'm sure they have been putting a lot of effort into the fourth Thief game, but we haven't heard anything about it since its initial announcement. If we don't hear anything about it by E3 2013, chances are we will be seeing its development moved to next gen (or it was canceled), but I'm not sure if I believe it. Nobody even knows who has dev kits for the next gen consoles, if anyone. Why refocus the project to move it to relatively unknown consoles instead of continuing what they have done?
Shawn
65%
The team working on this took time off to make the newest Deus Ex game, so theoretically they are working fully on Thief 4 at this point. However, I do expect it to be pushed to next-gen systems. Why? Simply put, because Square Enix is in charge of decisions now, and this franchise has been gone long enough to warrant trying to make a next-gen splash instead of a release into the muddy waters of the current generation.
Graham
70%
The Thief series has lost some mindshare in its absence, and the resulting IP is one that would have some trouble selling late in a hardware generation. It has a better chance near the next system's launch, or rebranded with something that people know more.
Eric
75%
Sure. Like Prince of Persia, it's been a while since a game in this series came out. Considering Deadly Shadows was released on the original Xbox, they just seem due for a new one. With the software upgrades, it could be something great.
Current 2012-13 Season standings:
Andrew
4
Eric
-1
Graham
2
Shawn
-6