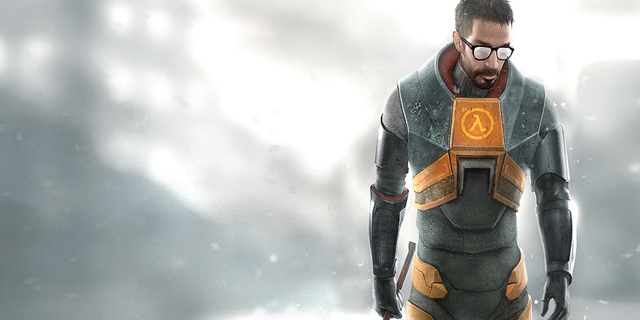 This week we cover some long-rumored games and possible reveals. Will we finally learn about Half-Life 3? Is Dragon Age 3 coming soon? And will Wii U see Black Ops 2 this year?
Half-Life 3 to be announced in 2012
Valve is notorious for playing things close to the vest, and also not ever counting to three. But at Gamescom, Half-Life 3 was included on the game publicity list, and no good reasons for its accidental inclusion were given. It's widely assumed that a new Half-Life game is in the works, but could it finally be on the verge of an official reveal?
Andrew
20%

I want to believe in Half-Life 3, I just can't. I don't think Valve has completely abandoned the franchise, but it's just been so long since we've received any information on it (or what was once Half-Life 2 Episode Three) that I have no reason to get my hopes up for any kind of announcement this year. I'm going to say no on this one, but I really want to be wrong.

Shawn
30%

Until proven otherwise, I will continue to believe Gabe Newell somehow doesn't realize the number 3 exists. As much as I would love Valve to announce this soon, I just can't see them doing so until closer to its prospective release date, which I doubt is within 12 months, if at all.

Graham
40%

This is a thing that will happen. I have no idea whether it will happen in 2012, but since I'm very much certain that it will happen at all, it's at least a bit likely.

Eric
0%

Two words: Valve Time.
Dragon Age 3 to be announced in 2012
EA and BioWare haven't officially acknowledged whether a third Dragon Age game will be made since some early comments that the series was planned as a trilogy. It too, however, was accidentally included on the Gamescom game list. Is an official announcement and some information on it incoming this year?
Andrew
75%

We all know Dragon Age 3 is probably in the works. I'm thinking that we'll see an official announcement of it this year, although probably not until the very end of the year. Like Mass Effect 3 and Command & Conquer: Generals 2, I'm guessing an announcement at this year's VGAs wouldn't be out of the question.

Shawn
85%

Dragon Age is definitely happening, and EA isn't shy about revealing their big properties absent an industry event. Or, as Andrew mentioned, the VGAs present a viable reveal opportunity. Basically, I'm saying it's coming and I need to hurry and play the first two.

Graham
80%

Play the first, Shawn. The second is really up to you. Anyway, the accelerated leaks about the game tend to expedite any announcements that a company wanted to hold off on, so while I don't think we'll see a release until at least late summer of next year, yeah, we'll know about it before New Year's.

Eric
30%

Unlike Half-Life, I could see this actually happening, but I'd imagine it would need a little more time. While the first game was actually pretty good, and the second game felt rushed, I feel 2013 would make more sense. Take what people loved about both game, put in the development time, and pop out a third game worthy of being solidified as a great game.
Black Ops 2 to arrive on the Wii U this year
Black Ops 2 is expected to be one of the hottest games of the holiday season when it is released in November. Right now, it is only announced for the Xbox 360, PS3 and PC despite the likely launch of the Wii U around the same time. According to a QA tester though, a Wii U version is in development, despite the fact that it hasn't been mentioned before. Will it arrive during this holiday season? Or is this port going to be a late arrival?
Andrew
45%

It seems likely that Activision would want to release Black Ops 2 on as many platforms as possible, but we probably would have heard about a Wii U version by now if it was actually going to be released this year. It wouldn't surprise me if it's in development and it would seem like a great Wii U launch title, I just don't think we can expect it so close to the release of the other versions. On the other hand, Activision kept the information on Black Ops Declassified under wraps until a few months before it came out, so I suppose there's a chance that we'll see it this year after all.

Shawn
35%

Black Ops 2 will definitely arrive on the Wii U, in my opinion. But it won't arrive this year, or we would have heard about it. I expect it will probably arrive sometime in Q1 2013 and provide a nice after-launch buffer before the inevitable post-launch dead time for releases. Of course, Activision could always surprise us with a holiday release, but I just don't see it.

Graham
70%

Consistently in previous years, a Wii version of Call of Duty has released alongside its 360/PS3 counterpart. Yes, those weren't ideal experiences, but they clearly made money, and Activision probably wants to make Wii U money too. My only hesitation: it could be a late arrival. But since when has Activision held a release for better quality rather than meet a target street date?

Eric
100%

I'm actually confident in this one. If anything, Activision wouldn't miss a chance to actually capitalize on selling this game on every available console they deem worthy. Considering the system actually being able to handle this kind of game, and the possibilities of the Wii U controller screen playing a part in the action, they could make this work pretty well. Maybe even a version worth buying (although I highly doubt it would overshadow the 360/PS3 version).
Current 2012-13 Season standings:
Andrew
4
Eric
-1
Graham
2
Shawn
-6