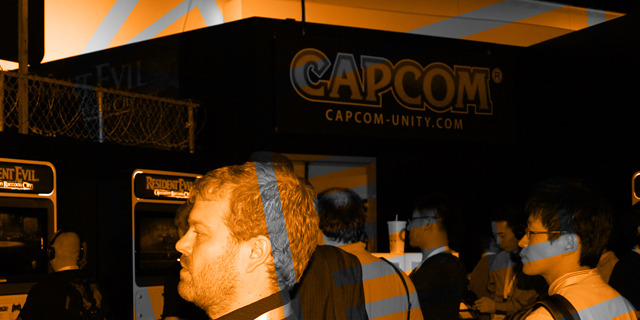 In this episode we talk about a few topics, but all you're going to notice are the references to Mega Man. It's okay, really. We understand.
Current standings:
Andrew
800
Gerry
378
Graham
888
Shawn
560
Mega Man to be a DLC character for Ultimate Marvel vs. Capcom 3
Mega Man has been taking a beating lately, with two games being canceled and not even a cameo appearance in the recently-revealed Ultimate Marvel vs Capcom 3 roster. Not all is bad though, as there are rumors swirling that Mega Man should finally make another appearance as a downloadable character for UMvC3 at some point.
Andrew
50%

Because of the huge fan response to everything concerning Mega Man happening in the news lately, Capcom has to do this, right? It seems like a logical step in the right direction at least. Part of me feels like it won't happen though.

Gerry
100%

Absolutely. Despite the recent events regarding the Blue Bomber, having Mega Man as a character in MvC3, DLC or otherwise, is a sound decision to make. He's already confirmed to not be part of Ultimate MvC3's roster, but DLC is always up for grabs and isn't finalized.

Graham
50%

Look, that Mega Man isn't in there yet is just weird. It's Capcom, and he's the mascot, right? It's like if the new Smash Bros. doesn't have Mario. Sure, he's not the fan favorite or best character or anything, but he should be there. It would be even weirder as DLC, but the company may try it as a sort of mea culpa. A lame, lame mea culpa.

Shawn
75%

Unless Capcom is completely killing off Mega Man, I can't see him completely disappearing off the face of the earth. If they truly want to gauge how popular Mega Man is, what better way than to see how many people buy and download him in UMvC3?

Windows 8 to be able to play Xbox 360 games
Microsoft has been saying for years that they want to do more to integrate their Xbox business with their PC business. So far, none of their attempts have worked (see Xbox Live for Windows and Games for Windows Marketplace), but with Windows 8 they may be trying a far more radical solution: the ability to play Xbox 360 games natively on your PC.
Andrew
5%

This idea seems a bit silly to me, and something I feel probably wouldn't work out for Microsoft. They want to continue to sell consoles, and I don't see why they would try to eliminate those potential sales.

Gerry
15%

It would be convenient, but I can't see Microsoft doing this. It'd be packing useless features to people who don't play video games with the OS, as well as providing competition/alternatives to their home console.

Graham
5%

Okay, that'd be a DRM nightmare. The whole reason consoles work so well is that piracy, while possible, isn't made incredibly easy most of the time for the general populace. Now if they're creating a framework where XBLA games can be ported with no actual work, or even retail titles like this, and have full cross-platform compatibility, that's one thing. But we're not sticking a Gears disc into our laptops, people.

Shawn
10%

I could see many ways this could happen, but none that would be beneficial to either Microsoft or their partner developers. I can see them unifying Xbox Live between PC and Xbox, but not the games themselves.

Capcom to announce a Monster Hunter 3DS game by TGS
The last few Monster Hunter games were spectacularly successful in Japan on both the Wii and PSP. They even reached a medium level of interest and popularity in the US for a change. Now, it appears Capcom is working on a new title in the series for the 3DS, and that they'll reveal it at the Tokyo Game Show this year.
Andrew
40%

Considering support for the 3DS is beginning to dry up a bit and future projects are being delayed left and right, this could mean one or two things: Capcom sees this as an opportunity to bring a bigger Japanese audience to the handheld or Capcom doesn't see the point of releasing the game until the system has more support. I'm leaning a little towards the latter though, especially since their gaze has lately fixated on Western audiences (where the Monster Hunter series hasn't reached nearly the same levels of popularity).

Gerry
10%

Wouldn't bet on it. With the HD re-release of Monster Hunter Portable 3rd this year, most series fans would still be digging into that game. On top of that, Capcom has already mentioned that they're reducing their support for the 3DS. If anything, I'd expect a Monster Hunter Vita title to be announced more than a 3DS one.

Graham
30%

Really? Look, I have no doubt that Capcom's making another Monster Hunter, but it feels like they'd stick with their PSP-favoring crowd and make it for the Vita. Er, well, unless the 3DS is getting a hastily-assembled port. That's possible. Something something Capcom, something something. Yep.

Shawn
50%

Capcom seems to be the only third party developer to have succeeded thus far on the 3DS, SSSFIV was the second best selling launch game for it. So I could see them putting resources into this. At the same time, the Vita is sure to outsell the 3DS in Japan, where the Monster Hunter series is most popular. My money is on a Vita title, with a 3DS port perhaps.