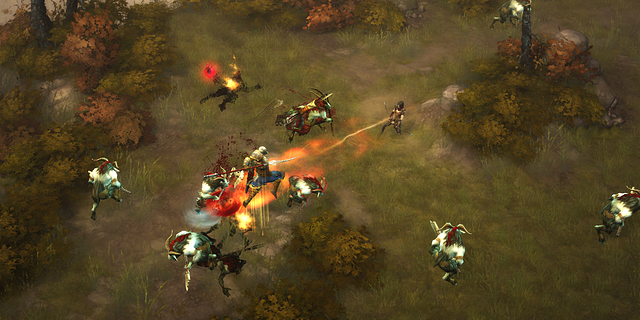 Will Diablo III end up on more consoles? Is Capcom working on new games for some more dormant franchises?

New Strider game to be announced by E3 2013
A banner that simply says 'Strider' have been circulating on the internet, though nothing has been mentioned by Capcom in regards to it. Capcom was teasing the reveal of two new games before PAX East, but neither turned out to be Strider. Is this the work of anxious fans or will Capcom officially announce a new Strider game soon?
Andrew
95%
Based on all of the leaked information, it seems a new Strider is inevitable at this point. I don't think it takes precedent over the announcement of a new DuckTales game, so that might explain why they decided to wait to officially unveil it instead of doing so at PAX East. It seems like it's inevitable at this point.
Shawn
90%
Capcom seems to have grasped recently that a lot of people have a lot of interest in its old franchises. Strider is definitely a lower priority title than DuckTales, though. I don't think there's much doubt that Capcom will announce something for it by the time E3 rolls around though.
Graham
90%
The Steam registry tends not to lie. Am I excited by the involvement of Double Helix, the studio behind such gems as Front Mission Evolved and the Battleship movie game? Um, not particularly.
Eric
75%
I could see this happening. It's been a couple of generations since we've even seen him in a console. Considering how much screen time he's been getting in Capcom's Vs. series, I could imagine that people have some sort of generated interesting seeing him star in his own game on an HD console.
Diablo III to be announced for Durango by E3 2013
After the PlayStation 4 reveal, it was generally believed that the Diablo III/PlayStation partnership was an exclusive deal. Recently, however, Blizzard has refused to comment on whether it is exclusive or not. This has led to rumors that Microsoft has managed to gain it as a title for its new console as well.
Andrew
75%
I wouldn't be surprised if Diablo III is, at the most, a timed PS4 exclusive. Blizzard has wanted to release the game on consoles for a while now, so why not make it available to as many people as possible? It's uncertain if Blizzard will wait until after E3 to unveil it, but I think it's going to happen.
Shawn
65%
Blizzard doesn't usually make an appearance at E3 and Microsoft is unlikely to reveal its new console before E3. If Diablo III hadn't been announced for the PS4 already, I could see it being a centerpiece of Microsoft's conference. Since it has, I don't think that is as likely to happen. I do think Diablo III will end up on a Microsoft console, and possibly both, but I'm just not confident it'll happen during this time frame.
Graham
50%
Probably? At this point, we'd have an announcement if it was to hit the 360, and Blizzard's being really shifty about the exclusivity thing. That said, maybe the Wii U would make more sense, and the company's waiting until sales there pick up. Who knows, really, but even if it is coming to the next Xbox, it may miss E3 and hit somewhere closer to BlizzCon.
Eric
40%
I mean, if I were Blizzard, I'd be trying to get this game on a couple consoles for some more revenue. Give the chance to Microsoft as well, and it could be nice profit for them even if the PC dedicated crowd doesn't even completely agree with it.
New downloadable Mega Man game revealed by E3
During PAX East, Capcom reportedly mentioned that a new Mega Man game was in development, but nothing other than that speculative comment has been reported. This only added flames to the rumor that a new game was in development due to it being the 25th anniversary of Mega Man. Will Capcom give us news on a new downloadable adventure for the Blue Bomber soon?
Andrew
45%
I'm sure Capcom wants to tide over angry Mega Man fans with something, and Street Fighter X Mega Man probably wasn't the game to do it. I don't think we'll hear about it by E3 though, but it seems like something that Capcom is working on (or at the very least discussing) based on their recent panel at PAX East.
Shawn
75%
Capcom has to do something with Mega Man this year, or risk even more ire from its fans. Street Fighter x Mega Man isn't good enough for a 25th anniversary, especially since it was a fan-made game. E3 would be the best time to mention it, so once again I'm going to go with Capcom doing the smart thing and say it'll happen.
Graham
55%
Maybe? Probably? Logic doesn't always apply at CAPCPOM, but it would make sense to get in a new game for the anniversary, and it would make sense to announce it by E3 if it's releasing that soon. But the walkback on that PAX East comment makes me wary.
Eric
90%
Can't wait to see my score go down for this one if I'm wrong, but the last two were download-only, so I don't see this one being any different. Hopefully this one will be good!
Current 2012-13 Season standings:
Andrew
135
Eric
-199
Graham
180
Shawn
-118
Starting this season, scores are centered on a zero point to account for occasional panelist changes.