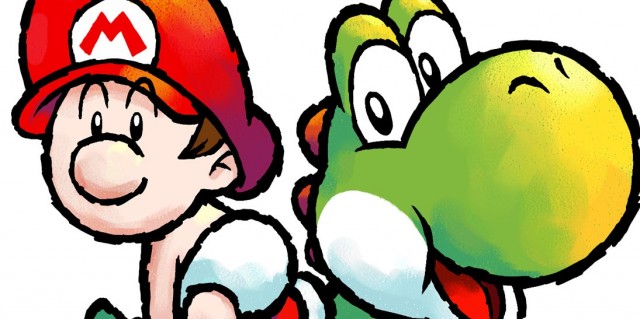 This week in the Speculator, we take a studio's name literally, hope for the return of Yoshi and tally up some results!

Rocksteady working on Teenage Mutant Ninja Turtles game
Rocksteady revitalized the Batman franchise in games with the acclaimed Arkham Asylum and Arkham City. There's been talk for some time about where Rocksteady would go next, but recently rumors have focused on the Teenage Mutant Ninja Turtles franchise.
Andrew
5%

I think Rocksteady's next game is going to be another Batman title based on what we heard about a while ago, so the chances of it actually making this seems very slim. It would be cool to see it tackle a different license though.

Shawn
15%

I think that Warner Bros. will keep Rocksteady on Batman for another game or two, but I'd love to see the studio, or someone else, give the Turtles an Arkham Asylum-style game. I just don't think it's in the cards for the moment, at least at Rocksteady.

Graham
1%

Rocksteady, a Warner Bros. studio, has already talked about its next Batman project, and all signs point to the TMNT license residing with Activision. Pack it up, guys. Show's over.

Eric
65%

I would love for this to happen, but I don't really see it happening. I'm hoping though. Considering the success of the Batman franchise, I could only imagine the direction it'd go with the Turtles. Considering each turtle has his own strengths and features, Rocksteady could definitely revolve a game around that while dipping into their rather lengthy storyline.
Legacy of Kain getting a reboot announcement by the end of 2013
Next year will mark ten years since the last entry in the Legacy of Kain series, despite it being a profitable and generally well-received series for Eidos. Rumors are starting to surface that Square Enix is planning a reboot of the series, a strategy it seems to be focusing on with one Eidos franchise after another. What better series to be next for this treatment than Legacy of Kain?
Andrew
70%

Legacy of Kain is one of my favorite game series, and it would be great to see Square Enix revive it. And while the last game in the series, Defiance, wasn't a huge success for Eidos back then, there is a lot about this franchise that could really attract both old fans and newcomers if it is handled well. The rich lore, wealth of characters and giant world would make for a great reboot, assuming they followed the formula from the originals. There is potential here, I just wonder if SE sees it as a franchise that can still be profitable.

Shawn
80%

I was honestly surprised when I found out that this series used to be moderately popular and well-received. After Tomb Raider is released, I could definitely see SE trying to rejuvenate this series. It's yet another once-promising series that Eidos managed to kill in the early 2000s that has a lot of present-day potential.

Graham
20%

Square Enix bought Eidos largely as a foothold in the Western market, and Legacy of Kain is the largest Eidos franchise it hasn't been working to revive. The problem: many of its recent Western-style attempts (like Dungeon Siege III, Heroes of Ruin and Front Mission Evolved) have backfired, so its current path seems to be focusing on surer bets. Tomb Raider is a cultural phenomenon. Legacy of Kain isn't.

Eric
10%

It would be nice, but unlikely. I mean Square Enix could probably focus its efforts on other games it's responsible for. *cough*Type-0*cough*
New Yoshi's Island game announced for Wii U by end of 2013
During the launch of the Wii U, a debug menu of questionable reliability seemed to mention that a new Yoshi's Island game was destined for the Wii U. That alone would have been enough to stoke the fires of the rumor mill, but then a couple weeks later, a listing for it appeared on Best Buy Canada's website, though it has since been removed.
Andrew
85%

I can see Yoshi's Island being a perfect fit for the Wii U. I consider the original to be one of the best on the SNES, and while the DS sequel is not too good, it was definitely cool to see a follow-up to what many consider a classic. With the Wii U GamePad, I can imagine this being a great choice for the system, especially if it followed the formula of the DS game (and actually made it fun).

Shawn
75%

A new Yoshi's Island would definitely work well on the Wii U, and Nintendo's current fan base would certainly eat it up. That said, Nintendo already has Mario and Donkey Kong side-scrolling platformers right now. I'm not sure it wants or needs a third series like that. That said, it makes too much sense to make a new game to just dismiss it.

Graham
75%

The listing, for "Yoshi's Land," is an intriguing one, and the corresponding chatter that Kirby's Epic Yarn developer Good-Feel is behind it is even more exciting. That's exactly the game it should be following Epic Yarn with, as a hand-drawn aesthetic and transformation-based platforming fits right in with our buddy Yoshi.

Eric
80%

I could see it happening. It's been a while since we've had Yoshi's Island game. Taking the power of the Wii U, the creative possibilities of Game Pad and the charm of the Yoshis, you could definitely make something that would make this a must-have for the system.
Current 2012-13 Season standings:
Andrew
20
Eric
-64
Graham
157
Shawn
-109
Starting this season, scores are centered on a zero point to account for occasional panelist changes.
PSP digital rental service: disproved. Andrew 50, Graham 20, Shawn 100
Logitech to offer UMD accessory for PSP Go: disproved. Andrew 10, Graham 5, Shawn 60
Sony readying yet another PSP redesign: disproved. Andrew 85, Graham 70, Shawn 95
Next Nintendo console to be more powerful than the PS3: confirmed. Andrew 50, Graham 75, Shawn 65
Windows 8 to be able to play Xbox 360 games: disproved. Andrew 5, Graham 5, Shawn 10
Dragon Warrior (Quest) VII to get a 3DS remake: confirmed. Andrew 85, Graham 70, Shawn 95, Eric 35
Valve working on a console: confirmed (technically). Andrew 15, Graham 5, Shawn 25