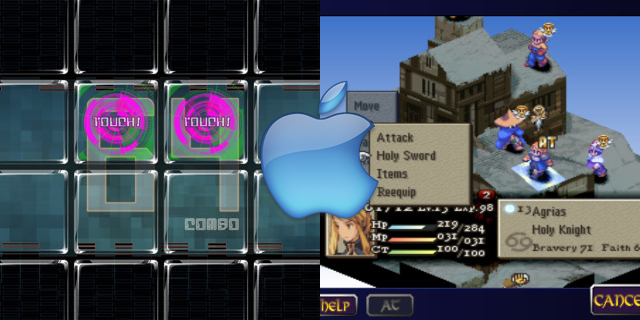 This week, we take a look at rhythm title Jukebeat and the iOS port of Final Fantasy Tactics.

Jukebeat (Universal): Jukebeat is just one of Konami's recent music games to hit the market in the last few years. Originally called Jubeat in Japan, their 16-panel touch game finally makes its way over to the US in the form of an iPad/iPod Touch title. The premise of the game is simple enough, and it's best described as musical whack-a-mole. Tap the panels in time with the music and earn a score. Earning over 700,000 points will earn you a passing grade. Anything lower results in failure. Split into three difficulty categories and ratings ranging from 1-10, you'll definitely find songs you like and will be able to ease yourself into the game.
The game itself is available for free and comes pre-loaded with three songs exclusive to Jukebeat and currently unavailable to the Japanese version, Jubeat Plus. The included songs are all high-energy remixes of Konami games, including Contra, Frogger and Lethal Enforcers. If three songs can't fill your need for tapping squares, there are four music packs available for $3.99 a piece. Two contain songs exclusive to Jukebeat, and the other two contain Konami tunes. For the rhythm game lover, this game is a definite must-own, at least in its free iteration. The features are a little lacking at this point, but we hope to see Konami release more for this game in the future. 4/5

Final Fantasy Tactics: War of the Lions (iPhone): The long-awaited release of Final Fantasy Tactics on the iTunes Store has finally arrived. With newer controls to accommodate the touch screen of these devices, it makes for easier navigation along the battlefield. Unfortunately, it's a direct port of the PSP version and brings with it all of its flaws. Skill and item use lag are still heavily present in this. People may have expected them to address these problems in the port, they didn't.
Despite the lag issues, it doesn't change the fact that this is still the same Final Fantasy Tactics we all know and love. The engaging storyline and infinite amounts of customization still captivate us to this day. If you can overlook the lag issues (or if you're used to it from the PSP version), then I could easily recommend this game to anyone who loves a good strategy RPG. (Of course, if you have the PSP version, you may not want to pay the premium $15.99 price tag for a game with no extra features.) 4/5