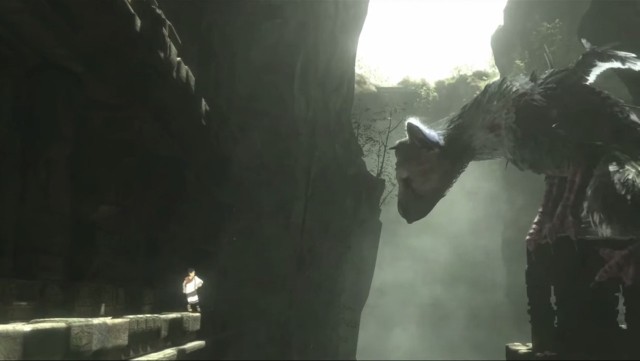 Just when you thought this year's E3 couldn't get crazier, Sony brought out some of the biggest reveals of the show so far, including the return of a classic franchise, a long-rumored remake and some new projects from Sony's internal studios.
Sony began their press event with a showstopper with the first gameplay demo of the long in-development title The Last Guardian. The demo showed the main character exploring ruins and working together with a gigantic creature in order to navigate the crumbling city. As you might expect from a title created by the team behind ICO, the demo featured plenty of environmental puzzle solving and a variety of harrowing situations. The Last Guardian will finally see the light of day in 2016.
Guerrilla Games took the stage to announce a brand new title, Horizon: Zero Dawn. The trailer showed an advanced civilization which died out and nature overtook in its place. This third-person action game focuses on a tribe attempting to survive in this new world, tracking and chasing down robotic enemies, mixing together both prehistoric and advanced technology. The demo ends with a battle against a giant mechanical creature and a reveal of even more larger than life enemies to take on in the full game. No release window has been revealed for this title.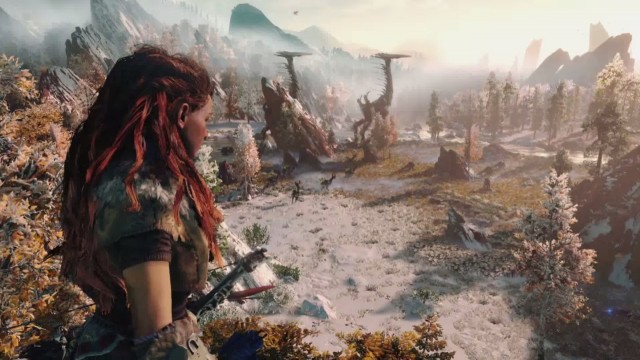 A live gameplay demo of No Man's Sky was shown, giving us a glimpse of the space combat and the sheer number of planets you will be able to visit and explore. You have the ability to pick any planet at random and warp to it, scan it and land on it in order to explore and gather resources. Every planet is also fully destructible, allowing you to harvest every piece of the environment as well as claim a planet for yourself. No Man's Sky has no current release window.
The new game from the team behind LittleBigPlanet and Tearaway, Media Molecule, was revealed. It's called Dreams and it allows you to use the PS4's motion controls to create environments and bring them to life. The creation tools seem to allow you to create anything from an exploration-based adventure title starring polar bears to an action game where you are fighting zombies as a teddy bear with a hammer.
The new Call of Duty title took the Sony stage for the first time with Black Ops III. The game's four player co-op campaign was revealed, showing off the advanced technology, a handful of new abilities you can use to help your teammates and more open-ended levels. The reveal ended with a long multiplayer-focused trailer, giving us a look at the new abilities in a competitive setting. It seems to be a mix of the previous Black Ops game and the new features found in last year's Advanced Warfare. Call of Duty: Black Ops III will be released this November and the game's map packs will be released first on PS4.
After years of speculation and denial from Square Enix, a full remake of Final Fantasy VII was revealed. The brief trailer showed a re-imagined Midgar, with Tetsuyo Nomura taking the helm as director. No other details were revealed except it would be released first on PS4.
Yu Suzuki, the creator of the fan favorite Shenmue franchise, took the stage to announce a Kickstarter  for Shemue III. The campaign is asking for two million dollars, and if funded, is slated for a 2017 release for PS4 and PC.
The show concluded with a new gameplay demo of Uncharted 4: A Thief's End. The cover-based third-person shooting and melee combat seemed like classic Uncharted, but a few curve balls were thrown into the mix, including a driving sequence in which Drake and Sully attempted to escape the pursuit of an armored vehicle. Uncharted 4 will be out on PS4 in spring of next year.
Other News and Events: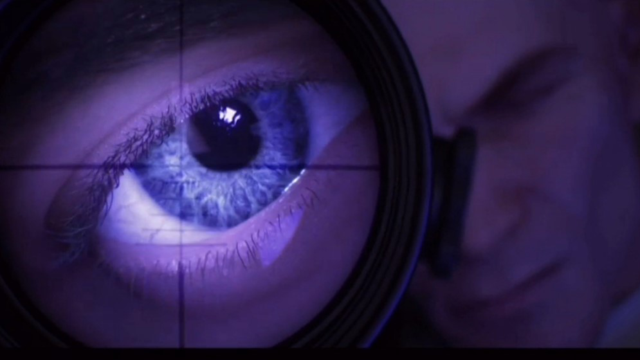 IO Interactive showed off the next title in the long-running Hitman series, simply titled Hitman. The PS4 version will come complete with console-exclusive content, including a beta.
After a brief showing at Ubisoft's press conference, Assassin's Creed Syndicate made a second appearance during Sony's event. This time, the other main protagonist, Evie, was shown, as well as a rundown of the handy weapons she'll have access to.
EA demoed the campaign for Star Wars: Battlefront, which can be played either solo or cooperatively.
We caught a brief glimpse Street Fighter V, complete with an announcement of a few new characters.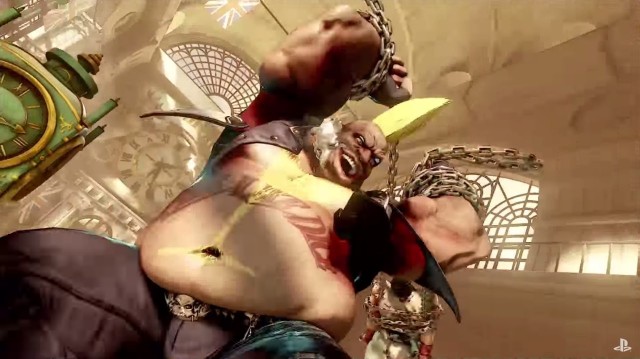 Disney Infinity 3.0 is releasing this fall and will introduce Star Wars playsets to the series, with one of those playsets being released exclusively on PS4.
Square Enix revealed a new Final Fantasy spin-off titled World of Final Fantasy, exclusive to the PS4 and Vita. It is currently slated to be released in 2016.
The first game from Campo Santo, Firewatch, was revealed to be a console-exclusive for PS4.
The next expansion for Bungie's Destiny, titled The Taken King, was revealed, with exclusive PS4 content.