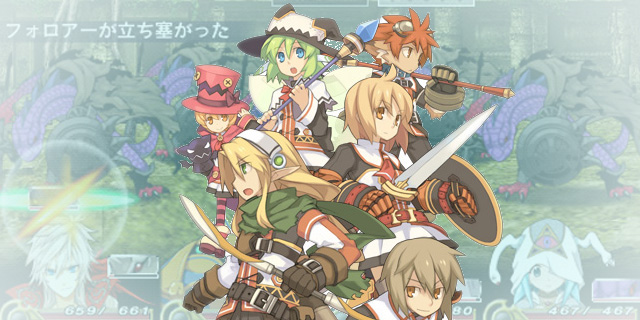 This week, we buck the trend for fake news and greet you this April Fool's Day with real JRPG news of all kinds.
TOP STORY: Class of Heroes 2 getting Kickstarted
In an event few people would have expected (though we did), MonkeyPaw Games has announced the first use of Kickstarter for a localization project. Their goal is to raise $500,000 to create a Limited Edition retail release of Class of Heroes 2. While the actual localization will happen regardless, it will only see a digital release without a successful funding. This will be pointed at as a test case for any future crowdsourcing for localization, so we're hoping that there's plenty of people interested in a Deluxe release of Class of Heroes 2.
NIS America reveals 3 new PS3 RPGs
The first title NIS America announced is called Legasista and is scheduled to release this August as a PSN-only title. It will be a 2D dungeon crawler and will take place in a future world where science and technology have been largely forgotten and treated as magic. Its gameplay should be similar to the ClaDun series and will have an… unusual cast of characters including an android and a bean sprout.
The second title, Mugen Souls, is scheduled for a retail release this fall. It will be more of a tactical RPG, where your characters can move freely around the battlefield during their turn. You can entice enemies to join you, giving you over 1,000 potential members. The main character has 7 different personalities, each of whom fight differently with unique strengths and weaknesses.
The last title is called The Witch and the Hundred Knights and is planned for a retail release early next year. This action-RPG is produced by the Disgaea and Phantom Brave team. Unlike most other games NIS develops, this one will feature real-time combat and a fully-3D world. It will also be a much darker story than is customary for NIS games.
XSEED publishing Unchained Blades on 3DS, PSP
It was a great week for fans of dungeon-crawlers. XSEED announced it is bringing Unchained Blades to North America on both 3DS and PSP as digital releases. The game was a retail release in Japan, and an eShop-only U.S. title is a rarity.