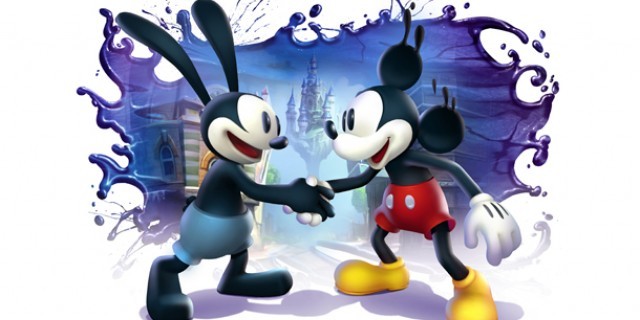 This week, we've got a new Epic Mickey game, a fantasy rhythm game and a little bit of Jake and Finn on the DS.
TOP STORY: Epic Mickey 2 arriving this fall
As was rumored earlier, Disney has decided to make a multiplatform sequel to Epic Mickey. This time, Mickey will be sharing the limelight with Oswald the Lucky Rabbit in a drop-in, drop-out cooperative game. While Mickey will bring back his paintbrush, Oswald will be armed with a remote control that can manipulate electricity. It is expected to arrive this fall on the PlayStation 3, Xbox 360 and Wii. (A separate companion game is slated for 3DS.)
Darksiders II to be a Wii U launch title
Darksiders II is due out this summer for the PC, Xbox 360 and PlayStation 3, but it won't be finished there. Vigil Games plans to continue working on the Wii U version, giving it some console specific enhancements, though no details have been revealed. All we've been told is that these enhancements will allow Darksiders II to use the tablet controller in a "unique" way.
Theatrhythm Final Fantasy coming this summer
Square Enix's fantasy-themed, oddly named rhythm game was finally confirmed for localization this week. Featuring 70 songs from the entire Final Fantasy series, it will require players to tap the screen in time to the music, with your prowess at doing so determining how well battles play out. No definite date was given, but it should arrive for the 3DS sometime this summer.
Adventure Time adventuring its WayForward
Adventure Time, the nonsensical show from Cartoon Network, will be receiving a game tie-in on the DS later this year, courtesy of WayForward. No details were revealed, but given the fact that WayForward is working on it, we have high hopes.