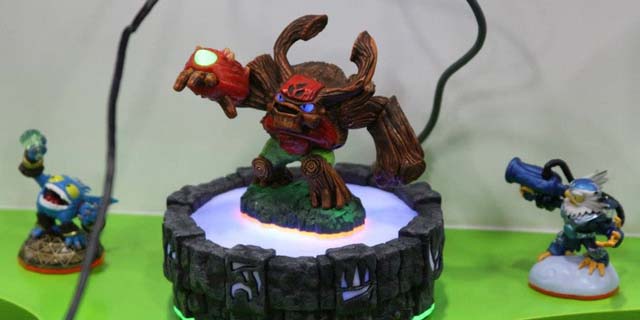 Last October, Activision released Skylanders: Spyro's Adventure, a game that combined video games and collectibles in the form of small figures that unlocked additional playable characters within the game. The frenzy created by the availability of these additional figures led to blockbuster sales, with over 30 million Skylanders figures flying off the shelves by March. As supply slowly met demand, sales naturally slowed, but Activision has something planned to return gamers to that frenzied state: Skylanders Giants.
Giants borrows the gameplay mechanics from the original title, but introduces a host of new features including, as the name suggests, giant figures that are significantly larger than the originals. For the sequel, new arenas and additional gameplay options are slated to be added to the battle mode, which is the head-to-head portion of the game. There will also be new Hero Challenges, which are unique challenges that require you to complete a task in a set amount of time and are unique to each Skylander.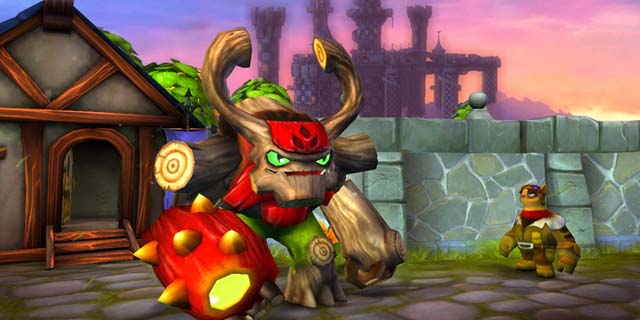 Activision also has new Skylanders on deck for the release of Giants. LightCore Skylanders, which feature some type of character integrated light up feature, will carry additional in-game benefits. Eight new Skylanders will be joining the existing ranks of playable characters, while a set of the original characters will see a re-release. These "Series 2" characters feature a new upgrade power called "Wow Pow," and also let gamers upgrade across more than one upgrade path, a limitation from the original game. Series 2 characters will be playable in the original Skylanders game, for those of you not ready to jump into a new game. There will also be eight of the larger Giant characters available.
The original game was only available as a starter pack, which featured three characters, the game, and a Portal of Power. For Giants, Activision will be releasing new starter packs, as well as booster packs for owners of the original game that come with the game disc and one Giant. The new starter packs will include a Giant, one of the new Skylanders and a Series 2 figure. Right now, that's slated to be Tree Rex, Jet-Vac and a Series 2 Cynder, respectively.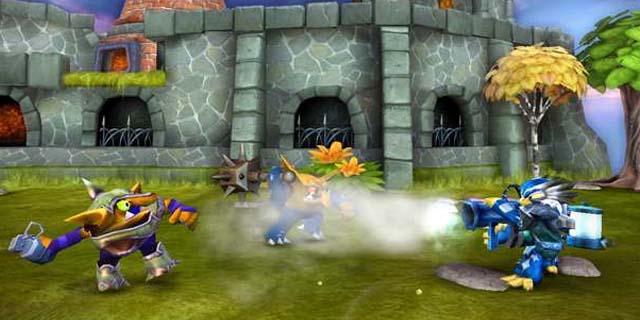 In my time with the game, I was able to play as Jet-Vac, one of the new characters, and Tree Rex, one of the new Giants. The first thing you'll notice is just how large the Giants are. They are huge! The bosses also got a boost in size, so don't expect to have a size advantage. The level I played featured a battle arena that reminded me quite a lot of Ratchet: Deadlocked, one of my favorites in the Ratchet & Clank series.
The one thought that kept coming to mind as I played was this is just like the old game, only new. The game itself is virtually indistinguishable from the original in appearance and gameplay, but you will notice minor tweaks and improvements as you play through the levels that only serve to improve the experience.
I've played quite a bit of co-op in the original game, but was not able to try co-op for Giants as the unit I played on was limited to a single controller. The only concern I had about co-op was how two Giants would fit on the existing portal. I was assured by Activision staff that they will fit; you just may need to angle them slightly.
It's a gross understatement to say that I'm eager to get my hands on Giants, but if for some reason you are late to the party and haven't picked up Skylanders, now is the time. Giants drops in a few short weeks and you've got a lot of ground to make up.