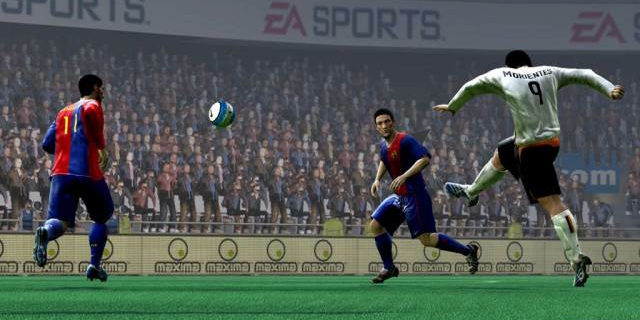 You've heard it all before: this year's edition has this many updates or these new features. Perhaps it has enhanced graphics or more teams. It definitely has updated rosters, and just maybe the gameplay has been refined. Well, in FIFA 12, the best soccer game franchise seems to have distinct improvements over past iterations.
We got our hands on the PlayStation 3 and Nintendo 3DS versions of FIFA 12, and for completely different reasons, we were quite impressed with each of them.
The 3DS version might have been the most impressive of the two versions for one simple reason: it isn't dumbed down. It feels exactly like its cousins on home consoles, except for the added 3D effect. And that effect looks good. For that matter, it looks quite good regardless. As for the gameplay, it also felt just as good as it did on the PS3 version. The game moves at a good pace, which passing, shooting, tackling, and dribbling at least as accurate as FIFA 11 was. We didn't get a look at the game's various modes, so we'll have to see how that plays out later.
The PS3 version looked slightly better than last year's, but the big improvement comes from the inclusion of more accurate animations and movements. In most sports games, this really doesn't make much of a difference, but in soccer, it makes a world of it. The sport is about the subtle nuances of how the ball moves and feels as the player dribbles, jukes, passes, or volleys. FIFA 12 seems to have achieved a level of realism in the touches and movements of the ball that I would have thought out of reach. Oh yeah, and the shooting and crossing meters are much less touch-crazy than they were last year. It takes longer to charge up a hard shot or a long cross, but anyone who played last year will agree, a slower meter can only be good. Again, none of the game modes other than a single friendly match were on display, but we look forward to seeing what else it has to offer.
FIFA 12 looks to be the soccer game fans of all ages have been looking forward to. Look for it on all major platforms on September 30.