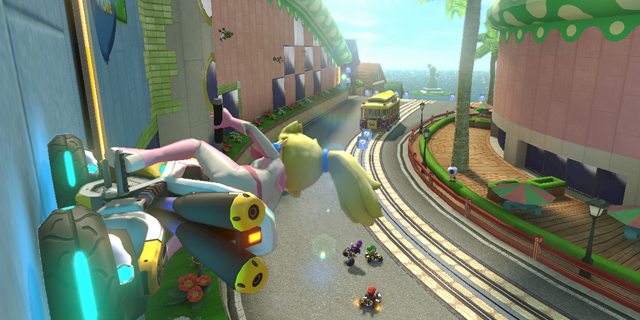 Before E3 even started, we knew we'd see the new Wii U Mario Kart. Now that we have, it's clear that it doesn't stray too far from the series' past, but it does add a new element that can turn things upside down.
What it is: As the series' first leap into the HD generation, Mario Kart 8 has a lot to prove about both the Wii U hardware itself and Nintendo's consistent ability to add interesting new dimensions of design to their franchises. MK8 features the ability to defy gravity by driving along the walls and ceilings, as well as some added sharing and online play features.
Why we're excited: The game's new features had little bearing on the track design when on terra firma, but radically changed your strategy when you did utilize the anti-gravity mode. Keeping track of the competition is harder, since the new layout forces you to monitor multiple planes at once and always be on the lookout for racers switching between them. This feature adds a great deal more strategy to the Mario Kart formula, and I am anxious to see how Nintendo's level designers expand upon it.
What we're wondering: I'm curious to see possible new power-ups. There are rumors that the blue shell has been removed entirely (and we haven't seen them in what we've played), and replaced with something new and unannounced. Power-ups have always been a feature that Mario Kart has used to define the kart racing genre, and every new one adds new layers of strategy that give depth to the game. Perhaps we'll see the inclusion of the feather from the original?
It'll be a bit longer before the final version of Mario Kart 8 arrives. The game's slated for an early 2014 release.