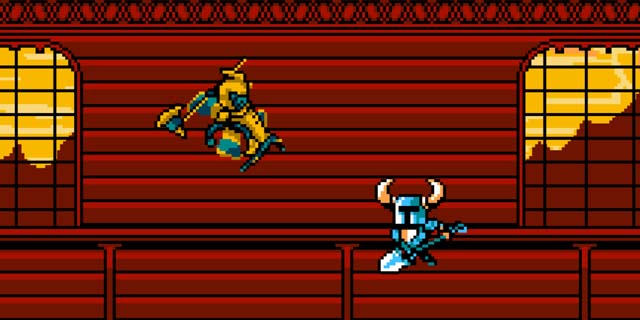 Shovel Knight has managed to gain a lot of traction since its Kickstarter debut, showing off at big name conventions and nearing a release on Steam and both of Nintendo's eShops. Its aesthetic and mechanics take us back to a time when platformers were insanely challenging, and killing an enemy required pixel perfect precision.
What it is: Shovel Knight is the first title from Yacht Club Games, a group largely led by former WayForward staff. The game heavily borrows from popular platforming titles such as Mega Man and DuckTales, and sprinkles in a little bit of Metroidvania style. The story revolves around our hero, Shovel Knight, adventuring to defeat the the Order of No Quarter and their leader, the Enchantress. The knight uses his trusty pointy shovel to attack enemies, dig up piles of treasure and even pogo along platforms like Scrooge McDuck.
Why we're excited: Nostalgia aside, Shovel Knight feels extremely fresh, and takes everything we loved about the games that sparked its inspiration and puts it in a convenient, challenging package. Like DuckTales, there are plenty of hidden treasures to be found by exploring places you would never think to go. Getting the maximum amount of treasure will require you to think outside the box, and even take a couple of risks at the chance of losing half your treasure. The exploration aspect should excite many.
What we're wondering: So Shovel Knight has infinite lives. Will this take away some of the challenge? And with the huge list of features the Kickstarter stretch goals provided, how will all of that be implemented to make a smooth, modern platformer? We also wonder how the four-player mode will work. Regardless, Shovel Knight is definitely a game to be excited for, especially if you love classic platforming action.
Shovel Knight will release on Wii U, 3DS and Steam sometime this winter.