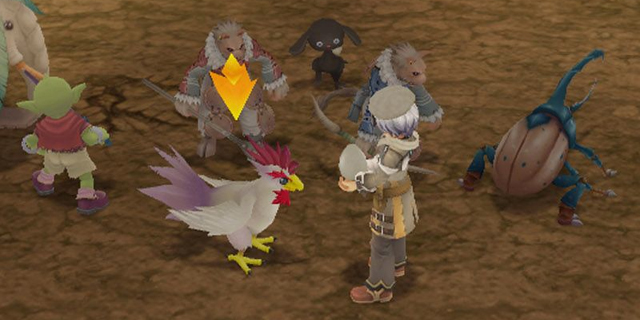 The Rune Factory series has always managed to balance a kind of "RPG-lite" dungeon crawler with the farming simulation gameplay of its progenitor. Changes to the formula are generally small and slow to happen. Imagine our surprise when we realized that Rune Factory: Tides of Destiny takes this formula and plays Yahtzee with it.
In Tides of Destiny, you'll originally play as a male who happens to possess the spirit of female childhood friend as well. Until a certain point in the story is reached, you'll play as the male lead, after which you'll be given a choice of continuing the story as either the female or the male character. The only real difference between the two will be your choice of marriage candidates: nine options for Aden, the male, and a mere three for Sonja. A majority of the game takes place atop the back of a massive golem, Ymir, who will travel from island to island in the game, carrying your fields and barns with it. The various dungeons in the game are found on the islands, and is where a large portion of our interest was focused.
Previous Rune Factory games have remained focused on the farming aspect of the game, with middling to poor combat attached to it, combined with some monster capturing and raising aspects. In Tides of Destiny, the farming aspect is almost an afterthought. You'll be more of a manager than a farmer, and with captured monsters doing all the actual work, from planting to watering to harvesting, you'll barely actually touch the farm. The monster raising aspect has also been improved, with many more monsters to capture and choose from, and more ways to interact with them. As for the combat, it received the most attention. All of it is fluid and feels more like Kingdom Hearts than Rune Factory. As for the graphics, the PlayStation 3 iteration looked very nice, enough that we wonder if it is a port of the Wii version or if they upgraded the visuals when they decided to make it for both consoles.
We could definitely tell that the team is focusing on making this entry a much more action-oriented title than it's done in the past. Whether this is something that will work out, or is even something fans of the series want, is something we won't know until it comes out this fall.