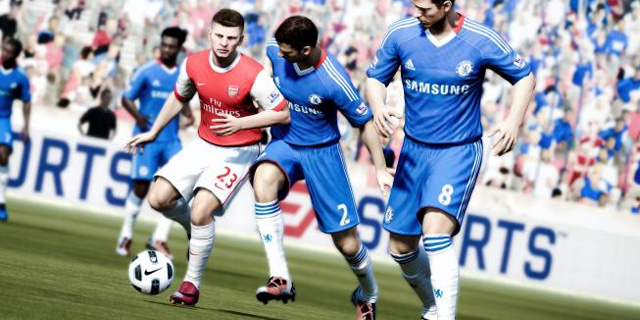 FIFA 11 took the FIFA franchise to new heights of accuracy and enjoyment. After being so good last year, how does the new installment in the series fare? It isn't the large upgrade that it was last year, but it does still improve itself incrementally.
EA brought back the same animation engine it used last year, though the team added even more to the game, and fine tuned the ones it already had. This results in a game that looks and feels remarkably similar to the actual game of soccer.
There are no real additional modes this year, with the main Career mode still the focus. This combines the Be a Pro mode from FIFA 10 and earlier and Be a Manager mode into a single one, where you can choose to be a player, a manager, or both. Whatever you choose, you'll be given different responsibilities. As a manager, you'll be tasked with balancing playing time for your existing players, while finding new talent to sign and winning as many games as you can. As a player, you'll be faced with either controlling the entire team or just your created player each game. This helps break up the game and allow you to take a break from having to control the strategy of your entire team and just play a single position if you desire. Whichever way you go, you'll have a great time doing it. As before, you can still be a goalkeeper if you desire, though we don't recommend it. It is a rather boring way to play the game.
FIFA 12 brings back the great graphics and commentators from last year, with just as natural a delivery as before, but with even more to say than in the past. A soccer game these days lives or dies on the fluidity of its graphics, and FIFA 12 is top-notch in that regard.
FIFA 12 is more of the standard incremental improvement than FIFA 11 was, and isn't necessarily worth a purchase unless you've not bought a new one in a while, or are just a soccer nut. That said, it still represents the epitome of the genre, and doesn't look like it will give up that title anytime soon.
Pros: Gameplay is realistic, animations and fluid and realistic, career mode is great
Cons: Not a huge improvement over the previous entry in the series