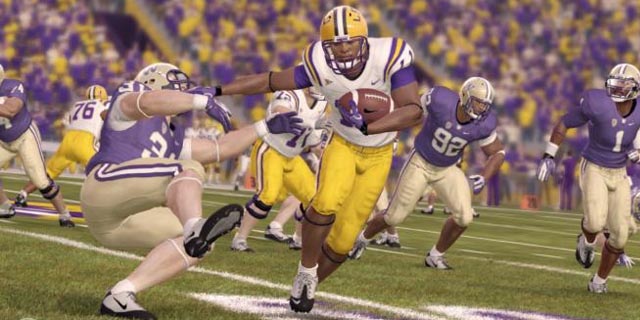 The newest college football game has arrived, as it does every year. This time around, EA chose to tweak existing systems while adding a new mode, leading to the best release yet, though still just an annual upgrade.
EA has made one big addition to NCAA Football 13: a new mode called Heisman Challenge. If you've ever wondered if you could have a better career than some of the best ever to play the game, this is your chance. You'll get to take over the career of a number of former Heisman winners such as Barry Sanders, Herschel Walker or Carson Palmer, or even old-timers like Archie Griffin. Road to Glory mode is pretty much the same as last year, with the only real difference being that you can now adjust the length of your high school season from nine to 11 games.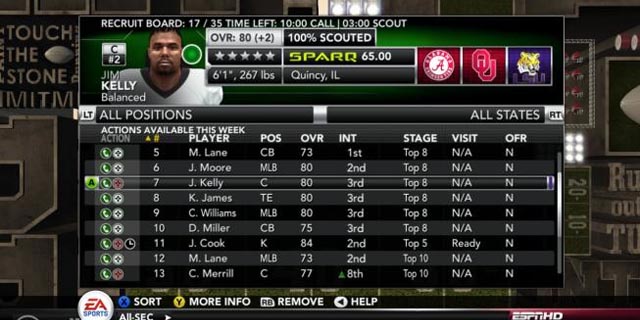 In Dynasty mode, the only big change is in how recruiting works, and it's a fairly radical departure from previous years. Whereas in the past your school's pitches only changed once a year (and some were never able to really improve), this year every pitch is recalculated after each game. Additionally, a large number of pitches depend on how well your school compares to other schools, thus limiting the number of schools that can have the best pitches in a category. Finally, a school isn't actually added to a prospect's top ten list unless they have actively recruited them at some point, after the first few weeks. This makes it easier to break into the competition for some prospects, though the reduction in the number of high level prospects makes it even more competitive than last year.
Actually recruiting the prospects has changed as well. Now, you can make three promises to a player throughout the year, not just during the off-season, and a bonus pitch is available called Prospect's Choice. This randomly picks any pitch available while giving a small point bonus to encourage players to choose it. The coaching carousel and every other major aspect of Dynasty mode returns intact.
The gameplay is pretty much the same as in the past, though with slightly tweaked physics and animations leading to more realistic feeling gameplay. In Heisman Challenge and Road to Glory, a new 'focus' mechanism exists that slows down time while you have it activated, allowing you a bit more time to make critical decisions in the heat of the game. The graphics, soundtrack and commentators are all basically the same as last year. New tracks and new comments have been added, but nothing to substantially improve them.
As usual, there's not enough substantially changed for any but the most ardent fans to pick it up if they own last year's edition. However, if it has been a year or two since your last game, these new perks combined with last year's overhaul make it well worth the price.
Pros: Heisman Challenge is a great addition; Recruiting changes made recruiting more realistic and competitive
Cons: The standard yearly upgrade edition