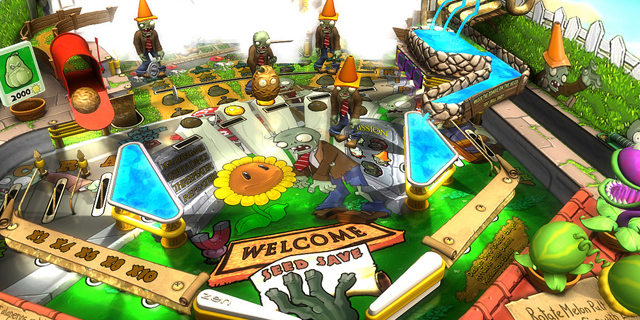 I've gushed about how much I love video pinball before. I'm also a huge fan of tower defense, and while Plants vs Zombies isn't strictly tower defense, it's certainly related, and I've racked up a ton of hours across the Steam and XBLA versions of the game. Pinball FX 2's (and Zen Pinball 2's) Plants vs. Zombies table continues the recent trend of creating tables that would not be possible on a physical machine, and just like the Marvel tables, PvZ is more interesting for it.
Plants vs. Zombies borrows a key element from the Avengers table and has balls of different types for different events. Your default ball is green (the ammo from the basic pea shooter), but your other choices are blue (ammo from the snow pea shooter) and brown (wall nuts from the wall nut bowling mini-game). I can't tell if the different balls do different amounts of damage during the table's many missions, but it adds to the visual flair of the table, and it's a nice touch to see the ball change color when I buy a snow pea from Crazy Dave.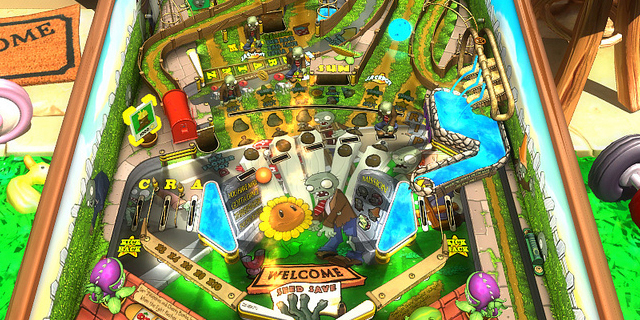 There are a ton of missions available with a wide range of difficulties and actions required. Some modes will have you smashing the ball into an oncoming horde, while others are feature more traditional goals like hitting the lit ramps or shooting a sink hole before the timer runs out. Throughout the modes, you'll face off against standard zombies, coneheads, bucketheads, football players and diggers.
Throughout standard play, the sunflower will drop sun for you to collect and defeating zombies will result in money to be picked up. Just like in the original game, sun can be spent on buying plants and money can be spent at Crazy Dave's shop. His selection has been changed a bit; now you can buy point bonuses and multipliers in addition to the seed packets you'd expect.
Visually, Plants vs. Zombies is Zen's best work to date. Plants vs. Zombies was transitioned magnificently from tower defense to pinball. Seeing zombies walk down the table works much better than raising some knockdown targets and attaching a timer to them. Plants vs. Zombies also marks the addition of 3D support. So not only is Zen continuing to support Pinball FX 2 with interesting DLC like the Epic Quest and Ms. 'Splosion Man tables, but it's branching out and adding brand new technical features to new tables as well.
My complaints about Plants vs. Zombies are few. The table absolutely gives away points. If a long play session on average is what you're after, then this table won't disappoint. If you want something you'll have to work at, then this isn't really the table for you. Multiball is very easy to trigger, the kickbacks are almost always active and extra shots are easy to acquire. In my first play I scored over 150,000,000 points over nine balls. Five balls is the most I've managed on any of Pinball FX 2's 32 other tables.
Pros: Great visuals, fun modes, great transition from tower defense to pinball
Cons: Extra shots, multiball, and kickbacks are all too easy to activate