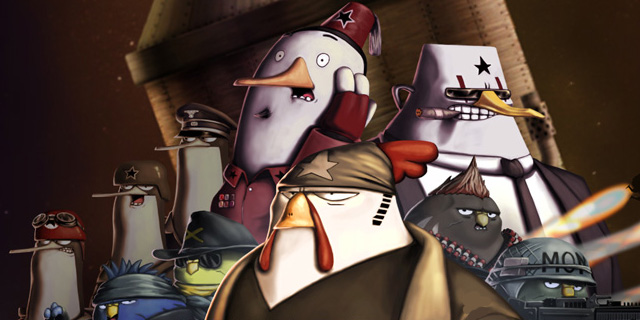 Rocketbirds: Hardboiled Chicken is a port of an indie PC game developed by Ratloop Asia that follows the adventures of Hardboiled Chicken, a renegade soldier trying to overthrow an oppressive penguin army and bring freedom back to the land of Albatropolis. Should we be interested in the adventures of a chicken fighting a bunch of penguins? You bet.
Rocketbirds is a strictly-built 2D action-platformer with puzzle elements, surrounded by a 3D environment that's beautifully detailed and immersive throughout. Combat is simple enough, shooting enemies to death using your limited ammo supply. (There's tons of ammo around, though, so running out is unlikely.) At times, you'll enter an area and get pinned against a flurry of oppressing bullets. You'll helplessly flail through the air, die, and then be forced to redo the same segment.
You encounter different weapons throughout your adventure, as well as two throwable items. One, the Brain Bug, is an interesting item needed in Rocketbird's complex half: the puzzles. This item allows you to take control of enemy penguins to access areas that Hardboiled is unable to access without their assistance. Taking control of a penguin allows you to walk alongside members of the Penguin regime unnoticed. After the penguin has served its purpose, you're free to force the bird to commit suicide and trek the path that the penguin has carved on your behalf.
Added to the PSN version are flying segments with jetpacks, which make you dogfight enemy soldiers in the open skies. While these segments weren't hard to control, they were a bit annoying from time to time. The missiles aimed towards Hardboiled are hard to see, so more often than not you'll be meeting your end with an unexpected missile knocking out most of your life bar.
The story is fairly linear. Hardboiled does have a back story, most of which is portrayed by cutscenes played throughout chapters. Instead of having actual dialogue, the music by featured band New World Order sets the tone. The game's entire soundtrack is by this band and, for the most part, it fits extremely well.
While being oppressed by penguins and listening to Hardboiled's stoic voice is serious business, the game definitely has a lighthearted side. Many times throughout the game, you'll enter a room and start hearing a penguin or a side character start thinking out loud. More often than not, you'll be sticking around to see what they have to say. You'll also learn that the fearless leader isn't as fearless as he might seem.
Along with just progressing through the story, there are several signs placed throughout every chapter and serve as a completion bonus. When one is activated, another one shows up within the level. Usually, it will force you to backtrack. While the first chapter eases you into this, you'll quickly learn that you have to be creative with how you make contact with these signs in later parts. One sign we encountered wanted us to keep an enemy airborne across a large gap and touch it to activate.
The main game takes about six hours to complete, but the co-op campaign and the additional stages from Rocketbirds: Revolution add to the play time.  For the most part, this game does everything right: a good story, tight controls, amazing character design, puzzles that make you think and a simple combat system. We look forward to Ratloop Asia's future efforts.
Pros: Great story, tight controls, beautiful environments
Cons: Short campaign, occasional cheap deaths