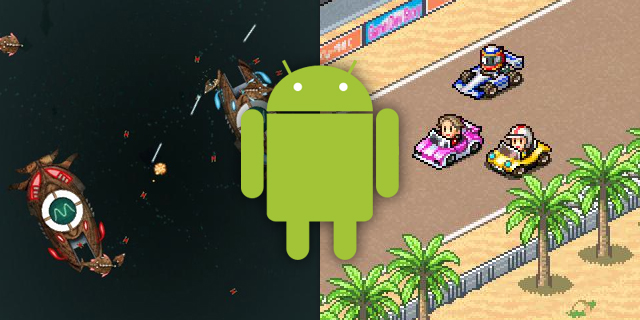 Kairosoft's racing team simulator and a one-button strategy game kick off our Android Roundup.

Grand Prix Story: After surprise smash-hit Game Dev Story, Kairosoft's followup was a bit of a curveball, spa simulator Hot Springs Story. With the third Western outing, there's a marked return to the roots of what made GDS great. In this one, there are a few changes, as you build up racers and fine-tune vehicles to work your way up to the big-league circuits.
The genre's watch-numbers-pile-up tedium is solved in an interesting way: performance is shown as a race, full of swerving and passing and such. We didn't think a game could live up to Kairosoft's first without such a play-to-the-base theme, but this one's a worthy followup. 5/5

Pax Britannica: Real-time strategy games aren't the easiest things to boil down to one button. Pax Britannica, originally an indie PC title, manages it. You spawn units from your ship, and they automatically attack others. The longer you hold down the button before letting go, the stronger the unit you produce, and a meter shows what level you've gotten to. Rapid-fire taps produce little fighters. The full four-bar unit is a hefty one that does massive damage to other motherships.
The Android adaptation, which is free, only supports two players (the original supported 4), but you can play on one device, as each player gets one half of the screen to tap. There's an AI to play too, but we miss the original's 4-player madness. It's free. Play it and see whether it clicks with you.  3/5
(Editor's note: one of the original PC developers of Pax Britannica, Matthew Gallant, briefly wrote for Snackbar in late 2008.)