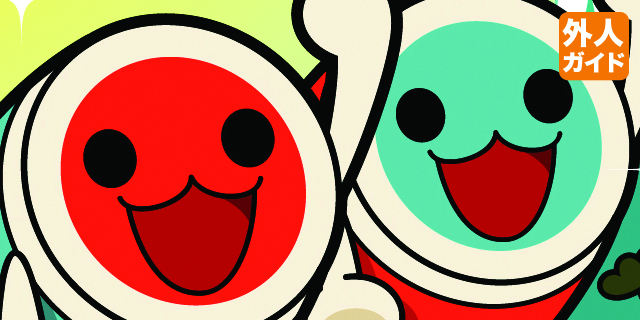 Before rhythm games were "dead," and before they were "cool," they could just be games, and focus on fun over all else. In the West, anyway. The industry of Japan never lost that fun spirit, and no series is more representative of that than Taiko no Tatsujin.
Taiko no Tatsujin places you in the role of a Japanese drummer, laying down the beats for various pop songs, classical pieces and assorted other tracks in the hopes of getting accurate hits and long combos. Like most great Japanese rhythm games, the series began in arcades, as a 2001 bombastic showpiece with two enormous drums and an overabundance of color.
What makes Taiko tick is its note system. Red notes indicate that you should hit the face of the drum, and blue notes mean you should tap the edge. There are also roll notes, that have you hitting the drum like a madman, and large notes, that award extra points for harder strikes. Generally, though, it's about the rhythms of the reds and blues, and keeping up as these sequences get more and more complex.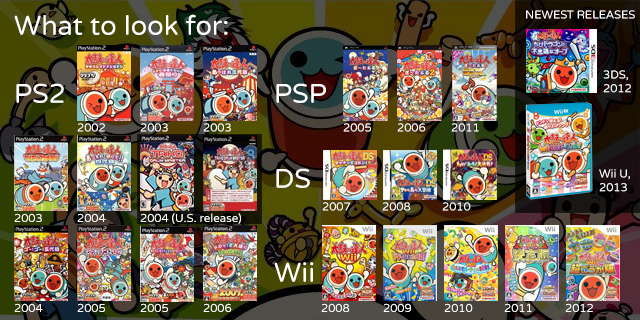 Import File:
Taiko no Tatsujin
Released in U.S.: Taiko Drum Master (PS2, 2004)
Not released in U.S.: So, so many games
Developer: Namco
Publisher: Namco/Namco Bandai
Language barrier: Minimal, just figuring out two or three menu screens.
If this is all sounding familiar to you, it's possible that you've played Taiko Drum Master, a 2004 PS2 release and the lone English-language version of the game. But it's not entirely likely, as it didn't enjoy very much success. No, I'll bet you played Donkey Konga, the GameCube game with special bongo controllers. That's okay! The two series are quite similar, since the same Namco team developed both. It's safe to say that if you've been missing Donkey Konga, picking up a Taiko game is a good way to scratch that itch.
The real fun of Taiko comes from its song selection. It still has the public-domain re-recordings and random pop songs from its early days, but later titles have done a good job filling out the song list with game themes, anime songs and some personality-filled original compositions. The latest game, released on Wii U last fall, even incorporates Vocaloids into its repertoire, adding more variety (and, inevitably, a bit extra difficulty).
Frantic rhythm play gets even better with friends. The series has always supported two players, and recent Wii and Wii U entries even allow four. This usually means using controllers instead of drums, but unlike something like Dance Dance Revolution or Guitar Hero, this doesn't totally break the enjoyment. Face buttons and shoulder buttons handle red and blue hits, respectively, which feels right. Big hits require two buttons at once, and that works fairly well too. If you're playing competitively, you'll probably want to all use the same controls, since the drum adds a degree of difficulty, but if you're just having fun, trading off can be a blast.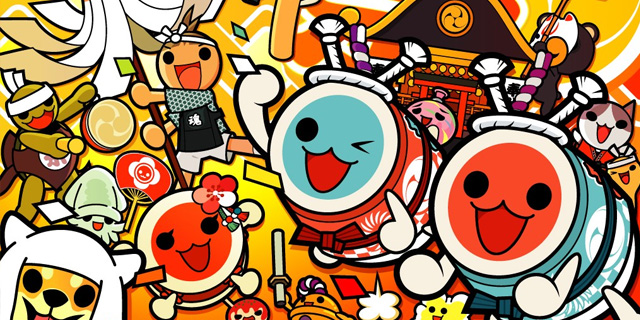 Button controls also allow Taiko's portable entries to be just as fun as the home versions. It's enjoyed a lot of success on PSP, DS and now 3DS, and not because of the weird promotional styli included with the Nintendo versions. That said, if you want to be a silly human being, drumming a touch-screen in a public place sounds like a great way to make that happen!
Unfortunately, most of the series' best releases are on region-locked platforms, from its long PS2 and Wii runs to its latest releases on 3DS and Wii U. PSP and DS releases are more import-friendly, and if you want to dip your toes into the Taiko world, your best bet is probably Taiko no Tatsujin Portable DX, the last PSP release. It has a robust song selection and some nice extras.