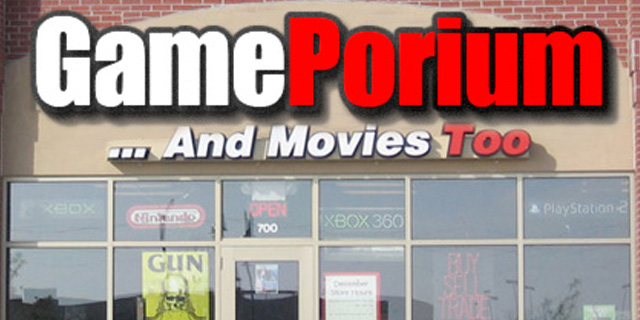 Just for a second, could you all keep watch so I can slip this incredibly-late column under my editor Graham Russell's office door? See I've been very, very busy lately as I've started a new full-time job. My new gig is at a place I'm sure you're all very familiar with. It's an establishment where one can purchase video games. It's called… Play… Shop. Yeah, PlayShop. That's the ticket.
I really shouldn't be telling you this because at my store we get all the hottest game news before the general public. Having my own column on a popular game site such as this one, I can't help but leak some upcoming game news to my adoring readers.  I'll even let you guys in on all the best pre-order bonuses coming up later this year. This season is going to be huge for games, with popular titles like Gears of War 3, Batman: Arkham City and Camping Mama, so there's a lot of very juicy info after the break.
Pre-order Hulk Hogan's Main Event and get a t-shirt you'll wear once.
Pre-order Sonic Generations and have the parts of your brain that remember the last 15 years of Sonic games surgically removed.
Reserve Star Fox 64 3D and forget for one fleeting moment about your mortgage/marriage/divorce/kids before reality comes crashing down around you.
Pre-order Star Wars: The Old Republic and George Lucas will Photoshop your baby pictures.
Pre-order Harvest Moon: A Tale of Two Towns and no one will ask if it's for your "sister".
Pre-orders of Cabela's Big Game Hunter 2012 come with a tin of Skoal and a shotgun. That's not DLC. We'll hand you a shotgun.
If you pre-order X-Men Destiny, you'll be shunned by the humanity you've sworn to protect.
Pre-order NBA 2K12 and Jack Nicholson watches you play courtside (also not DLC).
Spider-Man: Edge of Time preorders come with a free divorce.
Every reserved copy of Minecraft comes with black lung.
Pre-order Professor Layton and the Unwound Future and feel stupid.
Pre-order Mario & Sonic: London Olympic Games, and we let you incite a riot to loot the game out of our store.
The Legend of Zelda: Skyward Sword bonus disc is a DVD copy of Groundhog Day.
Pre-order Dead Island and get disappointed.
If you pre-order Batman: Arkham City, we murder your parents.
Call of Duty: Modern Warfare 3 "Cut Out the Middleman Edition" comes with a gun, a black coat, a yearbook and a Sharpie.
Matthew Jay's stack of pre-owned copies of Wii Play is always building, and he's always up for selling you magazine subscriptions. Shoot him an email if you have an idea for something profitable you'd like him to cover.