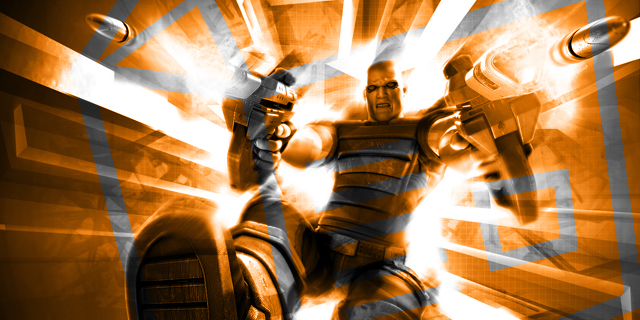 In this episode we talk about TimeSplitters 4 being unveiled, Mirror's Edge 2 making a chilly return and Notch caving to Bethesda's demands.
Current standings:
Andrew
800
Gerry
378
Graham
888
Shawn
560
TimeSplitters 4 officially announced by end of 2011
Crytek, the current owner of the TimeSplitters license after snapping up the Free Radical team, has hinted for a while that a new game in the series was the next project after Crysis 2. Is it ready for primetime, or was that just wishful thinking?
Andrew
90%

Seems pretty likely to me! The TimeSplitters series has always been pretty popular, and Free Radical was working on the next game in the series (along with Star Wars Battlefront III) before they were shut down. Crytek bought them out shortly after and they became Crytek UK, so most of those guys are still around working on something. Why not make it the next game in their biggest franchise, TimeSplitters?

Gerry
80%

I've never played a TimeSplitters game, but I do hear a lot of love for the series from friends who have. The rumor itself seems pretty cut and dry, so sure!

Graham
85%

I hope so. I really do. As much fanfare is given to GoldenEye and Halo as kings of local multiplayer, my friends and I always loved TimeSplitters' focus on the team experience. Turning on a ton of bots and taking them on together worked well in that game, and the humor was great too. I want it. That said, I've wanted it for the last few years, and we didn't get an announcement then.

Shawn
85%

I would certainly think that it is under development. After all, it has always been a fairly popular series…and if not for that series, why would Crytek have bought Free Radical? It certainly wasn't for Haze.
Mirror's Edge sequel announced by E3 2012, built on Frostbite 2 engine

So, readers, we have our ears tuned pretty well to these things, and we're hearing that not only is there a new Mirror's Edge on the way, but it's sporting the gorgeous Frostbite 2 engine that powers Battlefield 3.
Andrew
55%

Is EA really prepared to release a sequel to a game that pretty much bombed and wasn't that well-regarded by most critics? It's hard to say. I do see the potential of a Mirror's Edge sequel; making it longer and fixing the problems that made the first game less than stellar could really turn it into an excellent game. I think it's possible, but not entirely probable.

Gerry
50%

EA has mentioned in the past that it is looking for ways to bring back the Mirror's Edge franchise, though I'm not sure how soon that would be. By E3 2012? Maybe we'll have some more news then.

Graham
35%

This seems unlikely. The game didn't perform well financially, and there isn't that rabid fan base around it that some cult series have. Here's the thing, though: it's a great, great showpiece for a graphics engine, and those projects' dual goals make for a much lower bar to clear.

Shawn
60%

I can see this happening. EA put a lot into Mirror's Edge, and it was a big example of EA trying new IPs. I wouldn't be at all surprised if EA tried fixing the flaws and released a sequel, considering the showpiece it was for them.
Markus Persson forced by Bethesda to change name of next project, Scrolls, by end of 2011

Persson, known to most of you as Notch, has been teasing his Minecraft follow-up, Scrolls, for a while now. Here's the thing: he just got issued a Cease & Desist letter from Bethesda's lawyers, saying it could be confused with its Elder Scrolls series.
Andrew
5%

I very much doubt Bethesda would really go out of their way to try and change the name of an indie game because of the Elder Scrolls series. If they did, they wouldn't win in court, so I doubt this is going to result it much of anything for anyone.

Gerry
10%

The whole situation is ridiculous as it is, but I'd find it extremely disappointing if Bethesda actually went through with it. It's a ridiculous enough claim anyway, and it'd make them lose fans in the backlash of such a silly dispute.

Graham
30%

Notch doesn't seem like the kind of guy who backs down. That said, there are two factors here that make me think it could happen. First, he may just not want to deal with the process and change it to get Bethesda's lawyers off his case. Second, that name's always been a bit generic, and he'd do well to come up with something better even if he weren't under legal threat.

Shawn
65%

Scrolls has always seemed like a placeholder project name to me. I suspect he'll change it, but because he always planned to do so, not because of Bethesda. That said, I believe he'll certainly use the publicity of such a dispute to his advantage.