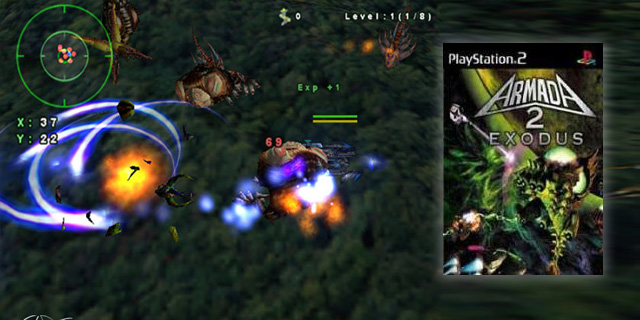 Metro3D's Armada, for the Dreamcast, hit on a formula that many others were attempting: a four-player co-op experience that was as fun as Gauntlet but didn't play like Gauntlet. Taking those cooperative same-screen elements and throwing them into an Asteroids-style space shooter was a lot of fun. The game suffered from the kinds of things a first-of-its-kind title does, though, and a sequel was the team's chance to make a good game great. Oh, and take its game online.
What It Was: Armada 2: Exodus, an Xbox (most of the time) follow-up to the Dreamcast cult hit
What Happened: Overambition and development hell
Why We Wanted It: Man cannot live on Gauntlet alone
Armada 2: Exodus, known for a time as Armada 2: Star Command, was destined for the Xbox. Or the PS2, or the GameCube, or back to the Dreamcast, depending on where you look and who you ask. It's indicative of the troubled saga of the game's development, which started on Sega's console but shifted off when the system began its late-life descent. The plan then was to move to the Xbox, and much of what we know about the game was from that time. A trailer (below) was released, major outlets were getting preview time with the game and everything seemed to be on track.
Metro3D's downfall may have been its ambition: the game was to include online play for 8 simultaneously, and a planned trading and bartering system would have made those interactions meaningful and impressively complex. We would have also seen some improvements in the game's visuals, which desperately needed some love in the original, and a more fleshed-out story. The original game's races had strengths and weaknesses that made them play differently, but the sequel would have made them more distinct in the narrative.
While Armada 2 would never surface, the rights would be picked up by members of the original team in 2005 for Armada Online, a game that's still alive now and still in alpha, that implements a lot of the planned online features.  Without the local multiplayer and in a time when PC games like this are all too common, though, it's little consolation.