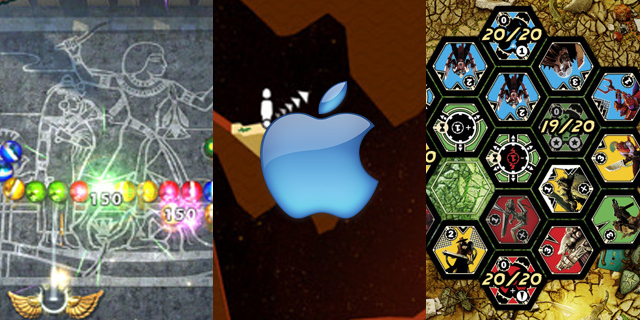 In this week's iOS Roundup, we look at three games, each with shots of different sorts.

Luxor 2 (iPhone, iPad): We remember early in the casual gaming renaissance, when MumboJumbo was the Pepsi to PopCap's Coke. Both made similar titles, with similar strategies and feels. The two took different paths, and while PopCap moved to inject lots of personality into its iteration, MumboJumbo focused on polishing its core concepts to an incredible degree.
The latest Luxor on iPad and iPhone is a great example. The game, for the uninitiated, has you shooting colored spheres in attempts to form chains, much like PopCap's Zuma and Nintendo's Magnetica. (There are some differences, though.) No, there isn't that much that distinguishes it from its now-ancient progenitor. But it looks incredibly slick, it's still fun to play and you can't help but get lost in it for longer than you originally intended. 4/5

Super Stickman Golf (Universal): Super Stick Golf was fun. Super Stickman Golf, the direct sequel, is more so. In addition to the full original game and a larger added campaign, there's a new mode in which players compete simultaneously. Somehow, in the same engine, you can play a turn-based thinking game and a frantic swing-fest.
What makes the main game more compelling is the addition of various special balls, allowing for mulligans and sticking to walls. You can pick a few of each to use before heading into a course, and it makes for an interesting balance of tactics and strategy. 5/5

Neuroshima Hex (Universal): The iOS platform has become a haven for board game adaptations, since the combination of slick visuals and a simple ruleset make them easier to put together and enjoyable with a touch interface. Big Daddy Creations' Neuroshima Hex adaptation is especially well-done, and it works on both devices, which is hard to do sometimes.
It still suffers from the weaknesses of the original design. It's heavily luck-based, and not all of the game's factions are well-balanced against each other one-on-one. Still, with free updates, adding factions and content, it's a good sign it will keep fresh enough to be worth picking up.  4/5