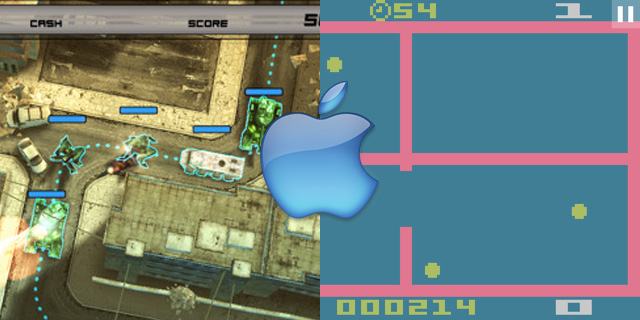 In this installment, we evaluate "tower offense" title Anomaly: Warzone Earth and retro-tastic minigame collection P1XL Party.

Anomaly: Warzone Earth (iPhone, iPad): With all the way-too-numerous tower defense games in the industry right now, isn't it so funny that someone made a tower offense game? It seems like a cute punchline, much like the second-person shooter. Here's the thing: this is possibly the most polished, well-thought-out and just plain fun experiences we've ever had on a mobile device.
Each round, you pay for a small squad of vehicles to get through a heavily-fortified city, plot a path through by determining which way to turn at intersections and use upgrades and powerups as you follow your caravan through its planned route.
While Anomaly made a desktop appearance, it was designed for a touch screen, and it shows. The game's simultaneously smooth and detailed, and the strategic decision-making you have to do weighing various expenditures and support items is enthralling beyond what's reasonable. We say get this game, and get it now. 5/5

P1XL Party (iPhone): We've seen a lot of retro homages lately, but few harken back to the pre-NES days. P1XL Party is a small (but growing, with free updates) collection of games that use visual aesthetics from the Atari 2600 and Commodore 64. (If you know the difference, you're this game's target market.)
It's not just a simple ripoff, though: the games are all designed natively for the phone, and while the aesthetic's retro, the games aren't. You'll be tilting to adjust bounce angles, sliding your finger around the screen to adjust positions of walls and swiping through various actions. Adding to the fun: the menus and instructions are all done in various retro styles, from classic in-game prompts to old instruction manuals. The combination is ultimately one worth checking out. (iPad note: while the game's iPhone only, it scales beautifully in 2X mode.) 4/5
Is there an iOS game you'd like us to take a look at? Let us know at editors[at]snackbar-games.com.