Halo 4 was a clear showpiece of Microsoft's Monday afternoon press briefing, with a gameplay demo showing off new enemies and the story exposition. Check the video above for more.
The company also unveiled its multi-screen strategy at the Galen Center event. Dubbed Xbox SmartGlass, the technology will allow you to have companion information on tablets and phones when you watch and play on Xbox, as well as transfer videos and such when you need to leave the house. Play Madden with a tablet! Look at Halo data! Potentially. We'll start to get stuff later this year.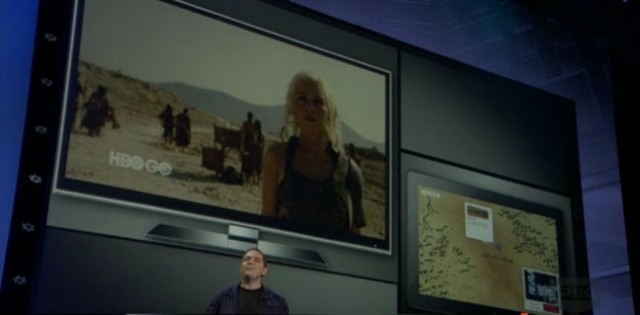 Ubisoft's Splinter Cell: Blacklist was unveiled at the show. Sam Fisher will take on terrorists and stuff with stylish executions and outdoor environments. Oh, and Kinect voice support! Out Spring 2013.
Oh, and you wanted to see more Call of Duty: Black Ops 2? Yep, Microsoft has you covered. Once again, the DLC is a timed exclusive for the system.
Some more notes:
FIFA 13's announcers will, with the magic of Kinect, chide you for cursing. Madden also has Kinect support.
Signal Studios, developer of the Toy Soldiers games, is making brutal fantasy action title Ascend: New Gods for a 2013 release. Also announced: Twisted Pixel's LocoCycle and the Kinect-controlled Matter, both vaguely Tron-looking and both out in 2013.
Before the event, Microsoft announced this year's Summer of Arcade lineup: Dust: An Elysian Tail, Deadlight, Tony Hawk's Pro Skater HD, Wreckateer and Hybrid.
Also thrown in with that announcement: Microsoft has bought the Max & the Magic Marker developers, Press Play.
Fable: the Journey still exists, and is releasing this year.
More trailers! Three exclusives: Gears of War: Judgment (out 2013), Dance Central 3 (later this year) and Forza Horizon (October 23). Also some multiplatform games: Tomb Raider, Resident Evil 6 and South Park: The Stick of Truth.