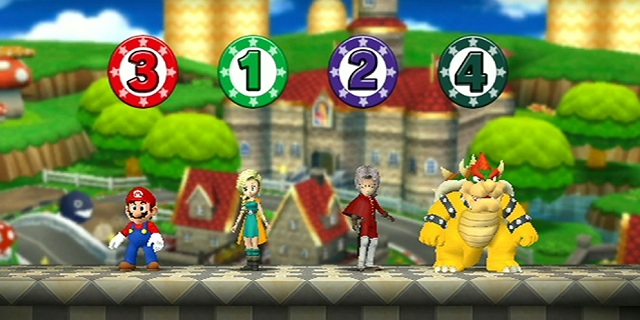 Nintendo's certainly released board-game-style party games in the West. We've gotten eight Mario Party games (and one more's on the way), and we also got Wii Party, a very similar outing. Still, there's been one franchise in the genre that the company has largely kept in its pocket, never letting it see release out of Japan: the Itadaki Street series. With the release of Fortune Street, you may be wondering: what the heck is it?
More so than those other outings, Fortune Street is a pure board game rather than a tenuous reason for minigames. You play as a character from either the Mario franchise or the Dragon Quest universe, and you roll and move around a board, buying and upgrading properties. Yeah, it's a lot like Monopoly. But there's a bit more game to this. You can choose which way to move, the boards are much less structured and therefore more varied tactically as games progress, and the objective isn't pure domination: it's a point total that's derived from the actions you take.
If you've played Culdcept, many of these concepts will be familiar, but this game doesn't touch that game's concept of decks of cards or monsters. No, this is much more straightforward, making it more suited for the general populace but likely no one's obsession. Still, it's a lot of fun; in our time with it, we had a great time trash-talking each other, making hostile takeovers of each other's property (an expensive proposition) and generally being ridiculous human beings.
Fortune Street is said to support online multiplayer, making it something we at Snackbar are looking forward to beating each other down in. It should be out late this year.