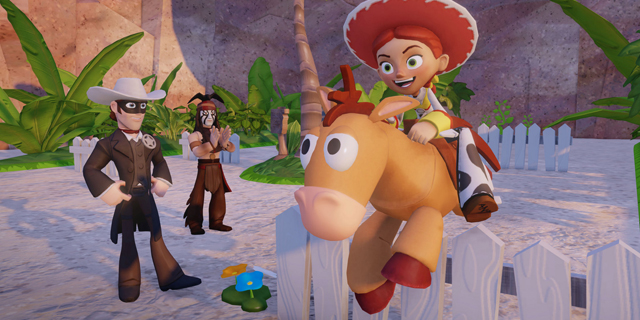 Ah, the toy box. It's a magical swirl of figures and play sets, brought together by the power of your imagination. Wild stories are told, unheard-of rivalries are tested and logic is thrown out of the window. Disney Infinity tries to recreate this special place in the virtual space, while still giving you the physical pieces you need to clutter up your house.
What it is: Both a logical progression from Toy Story 3's Toy Box mode and a response to Skylanders, Disney Infinity is the beginning of an initiative from the company to utilize the full power of the brand in one place. With RFID-packing figures and a portal-like device, it seems at first blush to be very similar to Activision's cash cow. Past that, though, things diverge. While there will still be smaller purchases, Infinity relies on franchise starter sets with self-contained adventures, and the mechanics float more around the Lego adventure formula than a stat-based action-RPG one. Outside the adventures, every piece and figure can be used in the Toy Box to create and share mash-up challenges.
Why we're excited: Fantastical situations are fun! The Toy Box set-up is easy to use, including the programming aspect. It may not be so robust as to capture the imaginations of the uber-creators, but it'll be fun for level design amateurs. Our time made us see just how fun it was to play around, driving across landscapes or using silly items. Also, there's potential in the idea of having $40 Infinity packs with solid, medium-length adventures instead of rushed, often-shoddy tie-in games for movies like The Lone Ranger and Monsters University.
What we're wondering: Will the cost spiral out of control? There's no end to the number of releases planned, and with the addition of items being sold in blind packs, it's not easy to just buy your set and move on. Also, the promise of varied campaigns is yet to be determined; will each Infinity adventure feel much like the last?
A whole host of Disney Infinity products, including the $74.99 starter pack, will be available starting August 18.