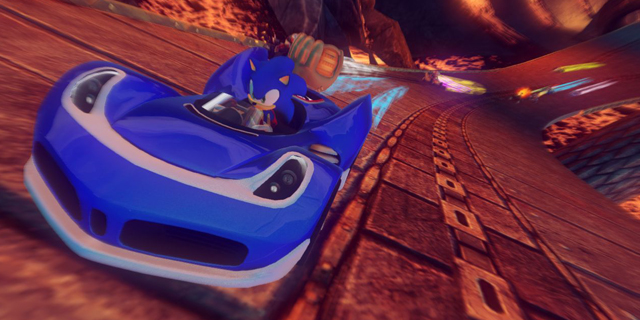 Sonic & Sega All-Stars Racing, while a fine game in its own right, certainly had elements that felt like a first effort. After all, it was. With time to iterate and polish mechanics, as well as infuse it with new outside talent and the ideas brought with them, the sequel, Sonic & All-Stars Racing Transformed, is definitely one to watch.

What it is: The second Sega mascot racing game, Transformed adds vehicles that transform into boats and planes, as well as more tracks and racers. With former Bizarre Creations head Gareth Wilson on board as lead designer, there's a renewed focus on frame rate and general smoothness, and there are also guest driver appearances from Danica Patrick and Wreck-It Ralph.
Why we're excited: It's clear that Wilson's taking a lot he learned from making Blur, a game we loved, and implementing it here. The items aren't nearly as dumb as they were in the original, from what we've played. They're effective, but not totally obnoxious. What's more, the racing is super-smooth, even during the transition from land to air to sea. Lots of elements now feel like natural console experiences, unlike the first, which felt ripped out of arcades with its boisterous voice work and incomplete physics and animations. (We're also looking forward to the Wii U-exclusive five-player capability.)
What we're wondering: Are the guest appearances going to feel natural? It's certainly weird to see Danica Patrick in a Hot Wheels plane-car zooming past a stunned Tails. With all the different platforms, will the single-player experience be fleshed out, or left on the curb as smooth online takes the focus? There's definitely the possibility of overextension taking its toll.
Sonic & All-Stars Racing Transformed is releasing for the Wii U at launch on November 18, then PS3 and 360 on November 20. Handhelds, PC and iOS follow.