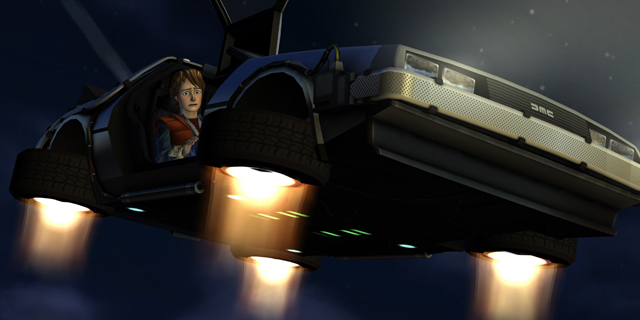 As we played through the final episode of Back to the Future's first season, OUTATIME, we couldn't help but be disappointed. After all, we came through the first four episodes, and followed Marty through his various adventures in locations both familiar and new. This last part, we thought, should be better than this.
Then, though, the game kept going.
(Spoilers of the first four episodes will be found below, though we try to avoid details of this last one's story. Rest assured, if you're interested, you should play those first.)
The last installment ended with Marty facing a betrayal by Edna-timeline Doc, as a change of heart makes him want to create a future with a more positive outcome for his one-time wife. It all seems framed to end at this 1931 science exposition, and that didn't seem fitting for an epic conclusion at all. Luckily, it moves on after a while, and pulls a few story twists.
Besides that, there were a few new gameplay elements thrown into Episode 5. Sometimes you need to aim at things in action sequences, which is pulled off a little better than those decision-tree-based fight scenes found earlier in the season. Besides that, it makes as many references as possible to earlier game events, much like the story of both the game and the movies do to earlier plot points. Yes, at one point you'll be moving around a speeding car, avoiding the driver and doing random tasks. There's also one notable sequence where you play the genre-standard use-random-objects-on-other-random-objects game. It's… not overdone, at least.
A big deal has been made of the appearance of Michael J. Fox in this installment. Much like the episode as a whole, this starts out seeming like a lame half-measure, but it works out fairly well at the end.
If you've gotten this far, you'll want to play this last episode. It feels like they finally took the series off auto-pilot about halfway through this last part, which is nice. (Earlier would have been nicer.) What's more, the epilogue sets things up nicely for a second season. All we ask: bring some fresh gameplay next time, would you Telltale?