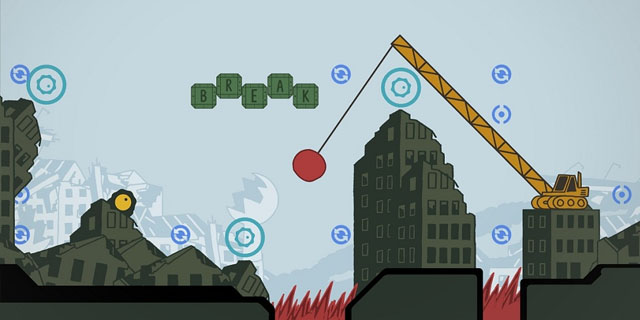 The released version of Sound Shapes is a long way from the game we previewed last summer. The small and simple (but charming) launch-bound title was given about sixteen different coats of paint, some heavy-hitter music talent and a few more months to bring it all together. Oh, and Queasy Games also managed a PS3 version, with both versions available to anyone who purchases it.
These developments turn what would have been a great little game into a better, bigger game. 
In the game, you control a little blobby thing, collecting things, avoiding red stuff that kills you and getting from one end of the stage to another. You can jump, and you can stick to some surfaces. You can hit a button to stop sticking, which allows you to drop when you need to and move faster the rest of the time. Of course, all of this is in service of a larger goal: the music. All the elements of a level play according to a rhythm, and they simultaneously sound cool and make for a useful measure of when to time your movements to get through obstacles.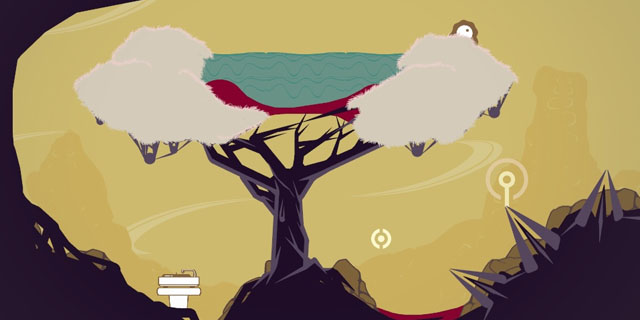 The main campaign of the game includes five "albums," or sets of levels made by a collaboration between a composer and an artist. Sound Shapes features the talents of mainstream guys like Beck and Deadmau5, as well as geek heroes like Jim Guthrie and I Am Robot And Proud. They work with visual talents like Pyramid Attack, Superbrothers and Capybara Games' Vic Nguyen. (Capy actually helped Queasy with many aspects of the game.) This means each has its own distinct aesthetic, ambience and mechanics, so calling them albums makes sense.
While the campaign isn't very long, it's really only the start of your Sound Shapes experience. Much of the magic can be found in the game's editor, which is the most intuitive of its kind and a lot of fun to make music/gameplay in. You choose objects and place them where you'd like, and you can scale them and rotate them as needed. Where you place collectibles affects the pitch and rhythm of the music created, so it's equally viable to start with a rhythm and make a level out of it rather than the other way around, if you wish. (It should be noted that, while the PS3 editor works fine, the Vita's where it clearly shines. The use of rear touch to scale objects is the one time ever we've liked using rear touch, and the touch menus are a bit faster to navigate.)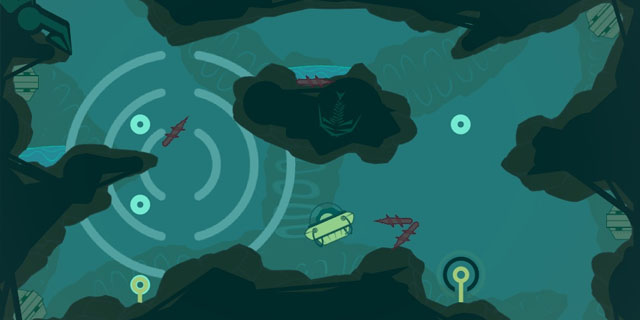 Like LittleBigPlanet, playing through campaign levels unlocks pieces for the editor, so you can make your own creations with Beck clips and Sworcery-esque businessmen. Exploring others' levels is fun, and though not many are creating masterpieces yet, we're sure they will soon. Until they do, the games' creators are making more levels for you, and there's nothing about them that makes them less than the campaign segments. (Really cool.) The in-game level browser isn't great for finding things that aren't at the absolute top of the charts or created by immediate friends, unfortunately, but there's a magnificent solution: at the game's site, you can browse levels (or be sent URLs from friends and others), and add them to a queue for the next time you play.
However you like to play, there's one thing that ties together the experience in a super-slick way: the graphic design expertise of Cory Schmitz. Everything is simple but curated in a way that makes the experience so much nicer, and it's a design that manages to get out of the way of the featured level talent when it needs to. Schmitz put together many of the palettes for the editor, too, so you can bask in some of his greatness in-game, too.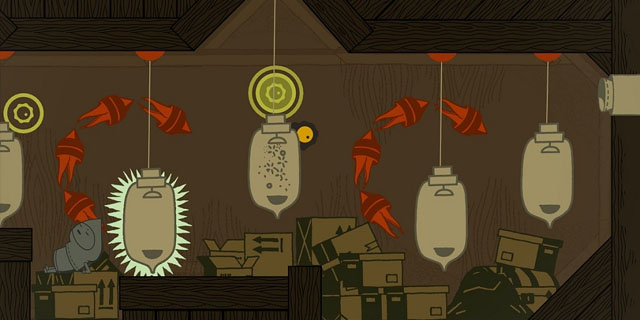 For those looking for more of a challenge, trophies can be earned in two modes: Death Mode and Beat School. Death Mode makes super-hard challenges out of the campaign levels, and will really test your platforming skills in a way the rest of the game never feels a need to. Beat School has you recreate rhythms and riffs in the editor based on listening to a clip, and is fairly simple to do but a lot of fun. (We wish there were a few more of these levels.)
There have been a few technical issues with connecting to the server in the early days of the game's release, but generally the system works, which is great for a small title like this. That's especially important with the cloud sync, which will keep levels, progress and trophies connected across both versions. (And yes, if you care about such things, the game features two full sets of trophies with platinums, and earning them in one unlocks the other when synced.)
Sound Shapes is a game to be experienced, by everyone. It's best in short bursts and not particularly challenging outside of the Death Mode, but that's just fine, because it embraces the idea of being a purely creative, fun experience, and it delivers.
Pros: Sound design, graphics design, level design, interface design
Cons: Occasional server issues around launch, Beat School a bit short