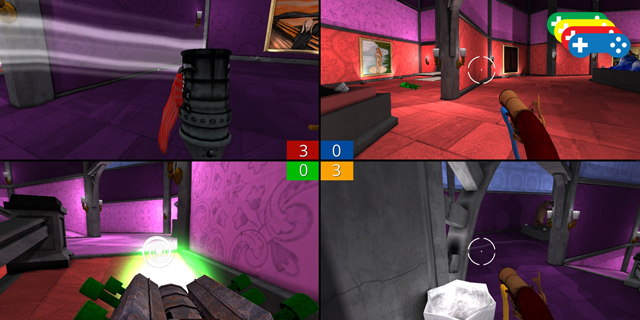 Looking to play some new games with friends this holiday season? While 2014's already brought us gems like Mario Kart 8, Fibbage and Starwhal, there's more great stuff to come. Check out these six titles!
Screencheat
PC, October 21
If you're a fan of local multiplayer, you've been there: in split-screen games, you sometimes can't help but look at opponents' screens to see where they are and what they're doing. Screencheat turns this into a mechanic, forcing you to find people that way because they don't actually show up on your own screen. It may be a bit tough for people to get their minds around for a while, but triangulating positions this way is a fresh idea, and we're interested to see how it pans out.

Halo: The Master Chief Collection
XB1, November 11
If you're looking for a shooter experience that's a bit more traditional, you can't do better than Halo, the local multiplayer FPS king since the days of the original Xbox. The Master Chief Collection lets you visit these days from the beginning, making it good for nostalgia as well as a premier modern experience (if only due to a lack of serious competition).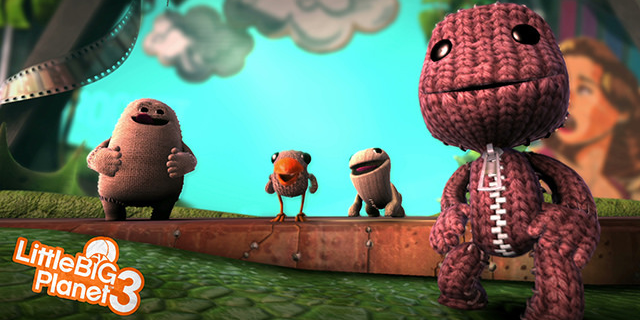 Also: Mario Kart 8 DLC
Have you had enough Mario Kart? Of course not! The first add-on pack, including two new cups and three new characters, releases sometime this November, and will likely be worth revisiting.
Digimon All-Star Rumble
PS3/360, November 11
A Digimon game? Really? Yes, really. This new title, from Yuji Naka's Prope team, gets its inspiration from a game that should be imitated a lot more often: Power Stone. You'll fight with up to three others in arenas while using the titular digital monsters, with an arcade-like feel. The Digimon property actually works quite well with this formula, as it already has a "transform" mechanic, letting characters occasionally "digi-volve" and wreak havoc.
LittleBigPlanet 3
PS4/PS3, November 18
For the first time in the series' history, LittleBigPlanet is making an effort to increase variety in controls, and not just levels, during cooperative play. The game now includes four different characters: the usual Sackboy, the flying, buddy-carrying Swoop, the size-changing Toggle and the nimble, dog-like Oddsock. This will likely help with another issue usually had by LBP players: the platforming controls themselves, which have often been weak due to the physics-based nature of the engine. Now, why not just fly through things, Kirby-style?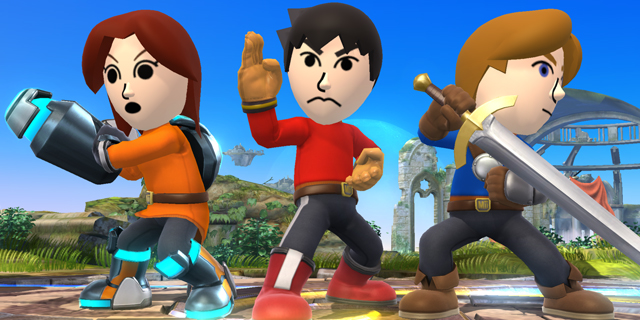 Also: Gang Beasts
Though it's still just in Steam Early Access, Gang Beasts is already quite a lot of fun, and we'll likely see more modes and options added before the end of the year. Keep checking in, and — worst case scenario — you just play more vanilla Gang Beasts.
Super Smash Bros. for Wii U
Wii U, November 21
It feels weird to even bring this one up, because of course you should be looking forward to Super Smash Bros. for Wii U. The franchise has long been known as a pillar of the multiplayer experience, and all signs point to this one being no different. The real question: should you pick up a GameCube controller adapter? Multitap's suggestion: yeah, probably. Or you're going to get the inevitable complaints about the missing option or inequality between GamePad, Pro Controller and Remote/Nunchuk users.
Lara Croft and the Temple of Osiris
PC/PS4/XB1, December 9
Lara Croft and the Guardian of Light was a fun dungeon-crawler, incorporating true cooperative sections into an experience that's usually mindless hacking and slashing. If the developers can manage to bring the same sort of puzzle-solving treatment to a four-player experience, it will be definitely worth a look and a good change-of-pace from Diablo or Gauntlet.