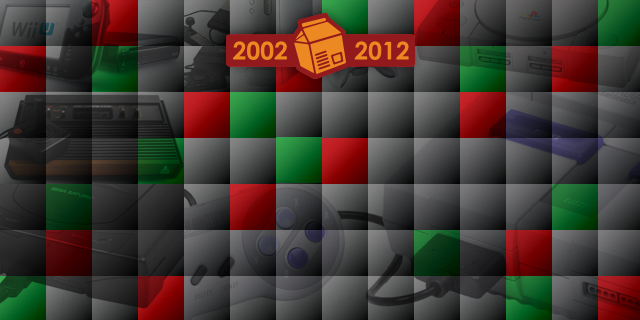 With the launch of Nintendo's latest console, the Wii U, now behind us, we here at Snackbar Games have decided it would be best to bring back The Committee one last time and rank console launch lineups. When examining these specific consoles and their games, it became clear to us just how paltry certain system offerings were compared to others. It put some system launches in perspective and gave us a chance to understand what exactly makes a good launch and what doesn't. Here are the first ten from our top 20.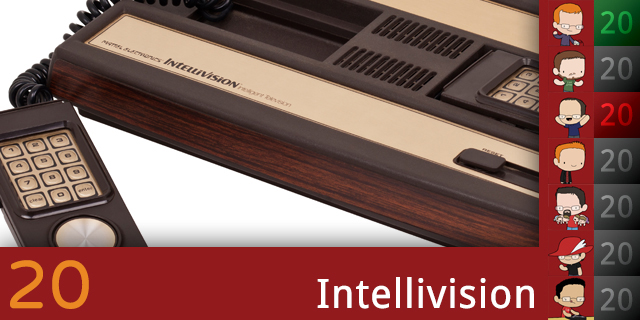 Anniversary profile
The Committee
Authors: Various (2010-2011, Anniv)
Consensus rankings and decisions from a staff panel on hot topics and prominent series.
ABPA Backgammon, Armor Battle, The Electric Company Math Fun, Las Vegas Poker & Blackjack
IN SUPPORT: I want, I want my, I want my Intellivision. I really do. But what made the system fun was not present at launch. Armor Battle certainly had promise, but the controller just didn't work particularly well with it. Now Shark! Shark!, on the other hand… – Graham Russell
IN OPPOSITION: None of the early game systems had great launch lineups, but when 75% of your lineup consists of basic card and board games and a math game, you're pretty much below the bottom of the barrel. – Shawn Vermette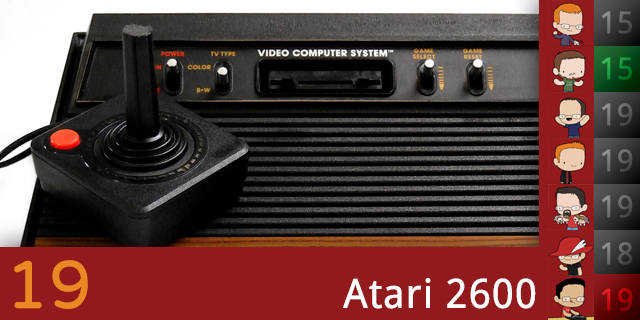 Air-Sea Battle, Basic Math, Blackjack, Combat, Indy 500, Star Ship, Street Racer, Surround, Video Olympics
IN SUPPORT: I'll never win the argument that the Atari 2600 had an amazing launch line-up; I know I would argue against myself too. But you have to understand the importance of games like Combat. If there was any game that single-handedly reinforced the idea of how fun playing the Atari was, it was that one, and it was available right out of the gate. The other games are a little less than stellar, but sometimes all you need is one strong launch title make it all worthwhile. – Andrew Passafiume
IN OPPOSITION: I'm not quite sure if I have to say anything else if one of your launch games was called Basic Math. Today that wouldn't draw anyone to a console, and I'm sure it didn't really draw people in back then either. None of the games really had too much appeal throughout the life of the console, and better game releases eventually arrived later (even if one was an ill-designed Pac-Man). – Eric Albuen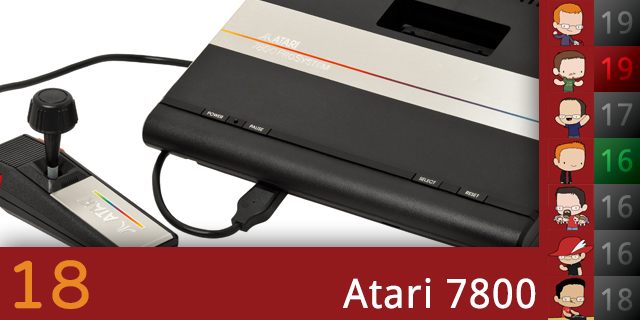 Asteroids, Joust, Ms. Pac-Man
IN SUPPORT: Circumstances really hurt the Atari 7800. It didn't have a chance. Aside from the whole video game industry crash thing, it suffered from delays and a lack of financial support from its own company. But backwards compatibility (the first console to have that without add-ons) and a friendly $140 price tag makes this not the worst launch ever. Ms. Pac-Man rules! – Henry Skey
IN OPPOSITION: Unlike the 2600, the Atari 7800 didn't have a lot going for it. Not only was the number of titles available at launch smaller, the games offered were games that we had seen already on other consoles. This system didn't do well for Atari for many reasons, but the lack of major support out of the gate probably didn't help. – Andrew Passafiume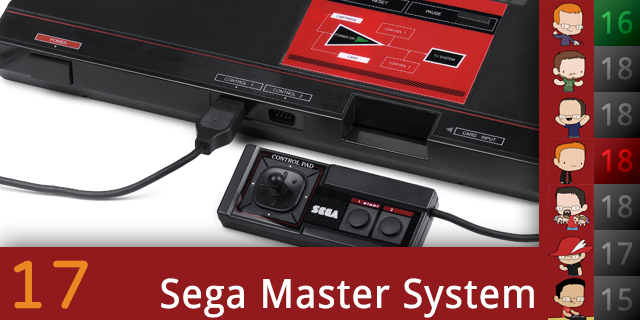 Hang-On & Safari Hunt
IN SUPPORT: Sure, sure. Unlike every other game on this list, the Master System launched with just one cartridge, packed in with the system. That's not much. But Safari Hunt is a solid Duck Hunt clone that is in some ways better than its inspiration, and Hang-On captures what made the arcade game fun. (Also, if you want to count it, the built-in Snail Maze was also playable on day one. Technically.) – Graham Russell
IN OPPOSITION: It's very simple. The Sega Master System launch didn't work because it was almost a year behind the NES in North America and two years behind in Japan. By that time, the NES had a crazy library of great games the Master System didn't. It eventually had some success overseas, but it never recovered from its terrible launch with minimal games available. I'm still not a fan of the name, but this was the '80s, so I can't count that as a knock against it. – Henry Skey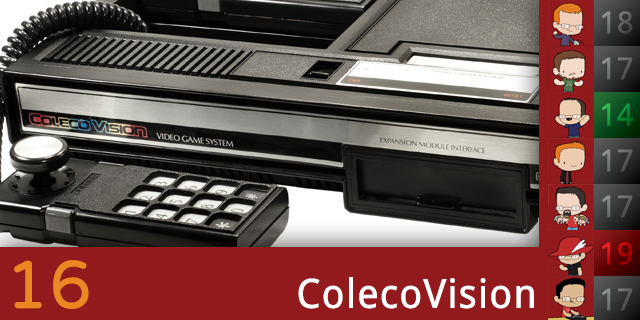 Carnival, Cosmic Avenger, Donkey Kong, Ken Uston's Blackjack/Poker, Lady Bug, Mouse Trap, Smurf: Rescue in Gargamel's Castle, Space Fury, Space Panic, Turbo, Venture, Zaxxon
IN SUPPORT: Supported by the best home system version of Donkey Kong and the revolutionary Zaxxon, ColecoVision easily had the best launch lineup of any early 1980s system. If they'd had more time, who knows what this system could have become. Sadly, it disappeared within two years as the video game market crashed. – Shawn Vermette
IN OPPOSITION: While it had full compatibility with the Atari 2600, it appeared too late to really compete, and didn't add enough to get people to buy the hardware. Its launch titles were mediocre at best, and nothing really got people interested in the system beyond being a 2600 that could play Donkey Kong. – Jeff deSolla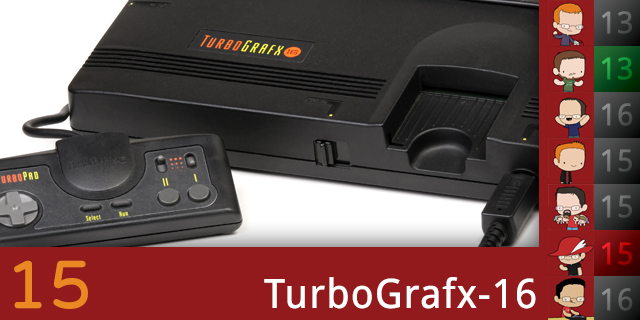 Alien Crush, China Warrior, Dungeon Explorer, Keith Courage in Alpha Zones, Power Golf, R-Type, The Legendary Axe, Victory Run, Vigilante
IN SUPPORT: The TurboGrafx is not the strongest console of this generation, but it did have a pretty impressive lineup for the time. Games like Alien Crush and R-Type proved that the console had a lot going for it. It was lacking in other games that may have pushed some people over the edge and possibly given it a better spot on the list, but it deserves mentioning for its lineup of (mostly) good quality and number. – Andrew Passafiume
IN OPPOSITION: In terms of price, design and software library, the TurboGrafx-16 lagged behind from the start, despite releasing a full year before Nintendo and Sega in Japan. Its lead was gone in North America, releasing only weeks before the Super Nintendo. While the system had a couple of decent games, it couldn't compete with the well-known properties on Nintendo or Sega's consoles. – Jeff deSolla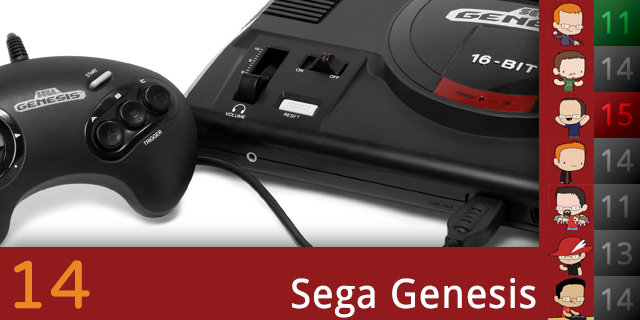 Alex Kidd in the Enchanted Castle, Altered Beast, Last Battle, Space Harrier II, Super Thunder Blade, Thunder Force II, Tommy LaSorda Baseball
IN SUPPORT: Alex Kidd is a bit silly, yeah, but it's endearing. It's weird to think about what this system was before Sonic blasted everything else away, but there were some interesting ideas in the early days. Also: Space Harrier music is catchy. – Graham Russell
IN OPPOSITION: The only thing Sega really had going for it early in the 16-bit era was Sonic. Before he showed up, the Genesis was the awkward kid on the block that everyone tried to ignore. – Shawn Vermette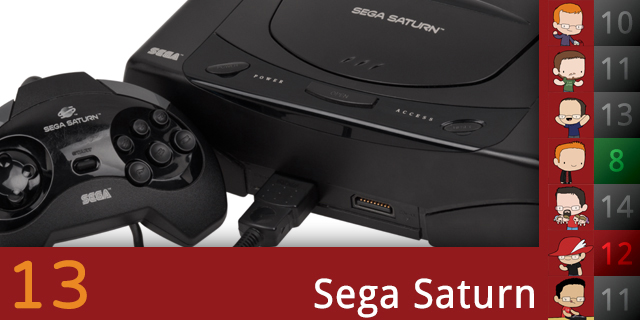 Virtua Fighter, Panzer Dragoon, Clockwork Knight, Daytona USA
IN SUPPORT: Poor Sega. It's either way ahead of its time, or slightly behind the times. In this case, it ran into Nintendo's latest console, the N64, and something new from Sony called the PlayStation. But it launched with what many still call a fantastic game, Panzer Dragoon. It also had a sleek design. It deserved a better launch. – Henry Skey
IN OPPOSITION: With an initial MSRP $100 higher than its closest competitor, the Saturn had a lot to prove, and sadly could not deliver the software to justify the added cost. Panzer Dragoon is a great game, but not enough to carry a launch and sell systems. – Jeff deSolla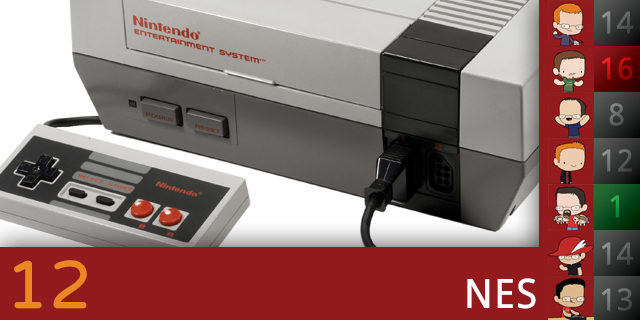 10-Yard Fight, Baseball, Clu Clu Land, Donkey Kong Jr. Math, Duck Hunt, Excitebike, Golf, Gyromite, Hogan's Alley, Ice Climber, Kung-Fu, Mach Rider, Pinball, Stack-Up, Tennis, Wild Gunman, Wrecking Crew
IN SUPPORT: The NES was a first console for a lot of gamers, and strong launch titles that appealed to many ages are a part of why we remember the system so fondly today. While I was playing Hogan's Alley my dad was waiting to play a round of Golf, and the whole family would take turns playing Excitebike. The launch titles available on the NES were the same thing that Nintendo has been giving us for years: pure distilled fun. I could play a round of Duck Hunt today and have fun, and I can't say that about a lot of other launch titles on a lot of other systems. – Justin Last
IN OPPOSITION: Nintendo's first home console definitely impressed with a strong number of games at launch, but most of them were forgettable at best. While it's easy to point to games like Duck Hunt and Excitebike and say that those alone were enough to sell a system, they were games that, while fun, didn't offer much to compel those who many have been burned by previous consoles to jump back in. It's hard to deny the popularity and quality of Nintendo's later releases that helped turn the company into a household name, it just didn't start with its best foot forward. – Andrew Passafiume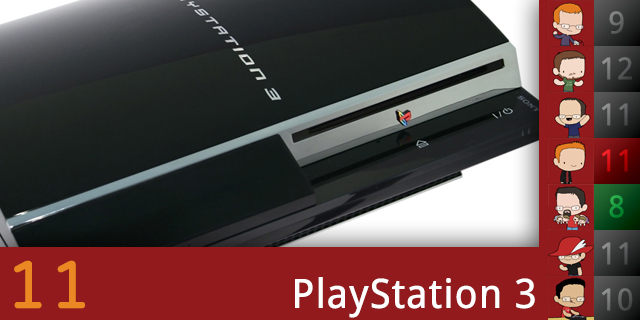 Blazing Angels: Squadrons of WWII, Call of Duty 3, Genji: Days of the Blade, Madden NFL 07, Marvel: Ultimate Alliance, Mobile Suit Gundam: Crossfire, NBA 2K7, NHL 2K7, Resistance: Fall of Man, Ridge Racer 7, Tiger Woods PGA Tour 07, Tony Hawk's Project 8, Untold Legends: Dark Kingdom
IN SUPPORT: The PS3 launched at a high price, and Sony was arrogant coming off of the success of the PlayStation 2. Neither of those things deter from the fact that it launched with a robust library (in the US) full of hit titles. Sony knows what sells and having sports game and recognizable FPS representation at launch was huge. Every major sport in the states was represented, Marvel: Ultimate Alliance is a fantastic game regardless of platform, and while I would have preferred a Ratchet title, it's hard to argue with the great brand of action and interesting weapons that Insomniac brought to the table with Resistance: Fall of Man. – Justin Last
IN OPPOSITION: As far as I'm concerned, this is the holy grail of "in opposition" paragraphs about a bad launch. It also shows that launches almost never indicate how successful a console is going to be. Nobody will argue that the PlayStation 3 is a bad system now, but everybody was saying that when it launched. Where to start? Sony's embarrassing E3 reveal press conference in 2006. For the 60-gig version, it had a staggering price tag of $599. Almost none of your friends owned one. It launched with a boring lineup, with Resistance: Fall of Man being the only "killer app" (but nobody would ever call it that). It launched in some countries with no games thanks to PAL/NTSC formatting issues. Its major selling point was a built-in Blu-Ray player, but they were very early to that party. The PS3 was an excellent console after years of great games and online features, but it sure had a rough childhood. – Henry Skey
Look for the top ten next week!