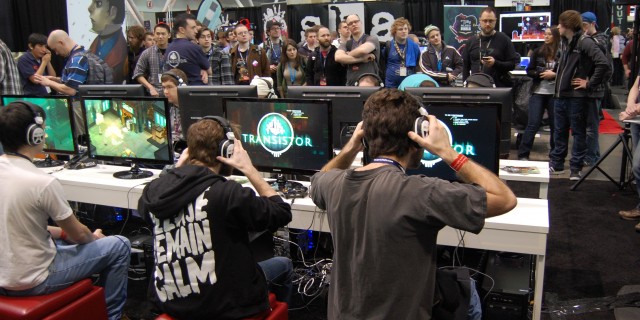 Following on the massive success of its first title, Bastion, Supergiant Games is sticking to what it knows. Transistor has a familiar feel, similar interfaces and the return of the first game's main voice talent. It's not a retread, though; with a new battle system and a new story to tell, Transistor more than stands on its own.
What it is: Transistor, set in the sci-fi city of Cloudbank, stars Red, a singer who has had her voice stolen, and a soul-storing sword that serves as the game's narrator.  The game takes the isometric action-RPG base of Bastion and adds a V.A.T.S.-like stop-action combat component.
Why we're excited: The new combat element really adds strategy to the fighting, more than the ad hoc tactics of the real-time portion. You can position yourself between actions (which takes up time), and each portion is scaled to use more of the meter based on power or complexity. Of course, you can still fight normally, too.
The other thing that makes the game special? The atmosphere, which is already spot-on a year before release. Supergiant wants to make you feel in control even in cinematic moments, so you're able to, say, rev Red's bike and go faster on your way out of town, or advance text at your own pace without it feeling disjointed.
What we're wondering: Well, the game has no firm release window yet, and no announced platforms (though it's safe to assume PC will be among them). With more time, will there be an "optimal move" to use? Will the complexity grow somehow, or will you just solve combat problems with an existing move set? Those are the kinds of things we'd need to play more to know.
Transistor is set for a 2014 release on unnamed platforms.