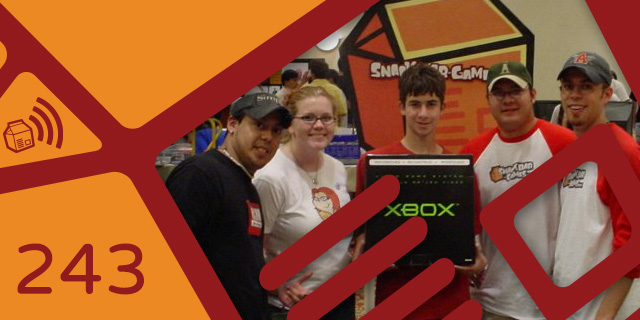 Anniversary profile
Snackbar Games Podcast
Hosts: Mike Carabajal and Marco Ortega (2005-2009), Andrew Passafiume (2011-2012), Graham Russell (2011-2012), Shawn Vermette (2011-2012), Henry Skey (2012)
Games chat with a rotating cast of characters from the Snackbar crew.
For the tenth anniversary, we chat with founders Chris Rasco and Mike Carabajal about the early days and hear tales of Snackbar past. Want to know why we're named Snackbar Games, why we have a hyphen in our URL or just how much the site has changed in ten years? This is the episode that will provide those answers. Mostly.
Check out the show here, check us out on iTunes or use the RSS feed in your favorite podcast aggregator. Let us know what you think! Email podcast[at]snackbar-games.com.
Hosts: Andrew Passafiume, Graham Russell, Shawn Vermette.
Guests: Mike Carabajal, Chris Rasco.
Music: Podcast theme by Tom Casper.